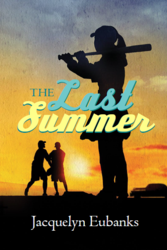 Enter by April 30th to Win!
(PRWEB) April 07, 2013
Voyager Group, LLC will be giving away a prize to one on-line reviewer of THE LAST SUMMER submitted in April. The prize will include a personalized, signed copy of "The Last Summer", a New York Yankees baseball cap, an Amazon gift card, and a feature the website, JacquelynEubanks.com
To enter, read The Last Summer by Jacquelyn Eubanks, then go on Amazon.com and write a review for the book and email the information requested to requests(at)JacquelynEubanks(dot)com. Contestants need to include the following in their email:

The title of the review and your amazon username or
A copy of the review with your amazon username
The deadline: April 30th, 2013. Voyager Group, LLC will announce the winner by May 15th, 2013.
For more information on the contest visit http://www.jacquelyneubanks.com/contest-information/.
*Serious Entries only. Must be a resident of the United States or Canada. Winner will be chosen by Staff of Voyager Group, LLC. Entrants under 18 years of age, seek parental permission. Questions can be directed to requests at http://www.JacquelynEubanks.com.