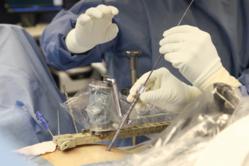 We plan to be at the forefront of spine surgery offering procedures that delivery quality and accuracy. - Dr. Delashaw
Orlando, Fla. (PRWEB) April 05, 2013
The Department of Neurological Surgery at University of California, Irvine performed the first successful lumbar spine fusion using Mazor Robotics (TASE:MZOR) Renaissance™ in conjunction with BodyTom®, an intraoperative imaging system by NeuroLogica.
NeuroLogica's BodyTom is a completely portable, full-body CT that boasts an 85cm gantry and 60cm field of view. Renaissance works with BodyTom to provide the surgeon with the ability to plan the surgical procedure using the intra-operative CT image.
"We plan to continue to be at the forefront of spine surgery offering procedures that deliver quality and accuracy," said Dr. Delashaw, Chairman of Neurological Surgery at University of California Irvine. The University of California, Irvine Medical Center is a world-class academic medical center and the only university hospital in Orange County.
The patient has been released from the hospital and is recovering very well after a fusion from the T12 vertebrae to the sacrum. Fusions may help correct chronic back pain – a condition that 31 million Americans suffer from, according to the American Association of Neurologic Surgeons.
"Compatibility of the Mazor Robotics Renaissance with leading imaging products is important to our customers," said Ori Hadomi, CEO of Mazor Robotics. "So while surgeons can still use CT scanners for preoperative planning, they can also use intraoperative CTs, such as BodyTom, which are quickly gaining popularity."
Peer-reviewed publications and presentations at leading scientific conferences have validated the accuracy, usability, and clinical advantages of Mazor Robotics technology. For more information, visit http://www.MazorRobotics.com.
About Mazor
Mazor Robotics is dedicated to the development of innovative surgical guidance systems and complementary products that provide a safer surgical environment for patients, surgeons, and operating room staff. Mazor Robotics' systems have been successfully used in the placement of tens of thousands of implants in the United States and Europe.