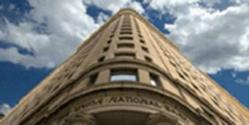 The Carlyle will not only stand the test of time but will be a wonderful investment for generations to come.
Pittsburgh, PA (PRWEB) April 09, 2013
Sitting majestically on the corner of Fourth and Wood Streets in downtown Pittsburgh, The Carlyle, has established itself as the most sought after downtown Pittsburgh residential address.
Immediately recognized by its rounded, granite front, it was originally built in 1906 as the Union Bank and Trust Building. After a century of banking and a series of mergers, The Carlyle was purchased by E.V. Bishoff Company. With an eye towards what should be there instead of what was there, E.V. Bishoff Company plunged itself into the forefront of the housing boom that was soon to rush into Pittsburgh.
Engineering that went beyond anyone's expectation took place to craft not just an apartment grade residential building, but a community of magnificently built homes-; homes that were built to last well into the next century; homes that were built to resemble and to the same standards as the most sought after addresses in Chicago, London and San Francisco. As a portfolio operator, E.V. Bishoff Company understood all too well the value of proper engineering and floor planning and how taking the needed time up front would translate into a quality of craftsmanship that would be unparalleled in the city of Pittsburgh and would create value for generations to come.
The design and development of the Carlyle was focused on not just maximizing the number of residences that the building would hold, but rather on the creation of a private living environment, a quiet environment, one that would allow each residence to be completely independent of the other while still exemplifying all that is exciting about downtown living. Floor plans that actually work and embrace the city landscape were created. Floor plans that focused their attention on lifestyle and views were not simply one of the goals, it was the entire goal. No corners were cut. No shot gun floor plans that contain windowless bedrooms or clumsy layouts that would have questionable resale value were permitted or designed.
Carlyle floor plans contain a sense of arrival that is unparalleled anywhere in the City. Magnificent front doorways and foyers that open up to a landscape of windows showing off the Pittsburgh skyline are attributes that each and every floor plan contains. The floor plans are both livable and salable. "So often you find floor plans that though they may be interesting in a quirky way, the resale of those floor plans is quite difficult. Not so at The Carlyle. We have left those floor plans for the production builders," said David Bishoff, President of E.V. Bishoff Company.
Bishoff knew that if they built it right and with the next century in mind, the Pittsburgh community would recognize its value and would gravitate towards it. With its high end granite countertops and granite foyers, stainless steel appliances and solid wood cabinetry all as standard, The Carlyle immediately captured the high ground of quality of construction, floor planning lifestyle and investment.
Everything EVBCO did at The Carlyle was done to create a better residence and lifestyle. Every detail down, to how the water is distributed in each unit, how the ceiling was handled to accentuate the height and the surrounding window fenestration, how sound-deadening material was installed between each and every residence, how no apartment grade flooring, cabinetry, doors or hardware were used and how each and every residence was completed up front so as not to provide a noisy environment after residents moved in all speak to the commitment that E.V. Bishoff Company had, and has to The Carlyle.
"I'd be the first to tell you that The Carlyle took longer than we thought, but I'd add that it was worth every minute and every dollar spent," said David Bishoff. "The Carlyle will not only stand the test of time but will be a wonderful investment for generations to come"
For tours and assistance please contact E.V. Bishoff Company at (412) 471-6868.
Founded in Columbus, Ohio in 1966 as a commercial real estate development company, the E.V. Bishoff Company (EVBCO) is a firmly established leader in redevelopment of historic central business district office buildings in Cleveland, Columbus and Pittsburgh. The family-owned company known for stellar, responsive service to its tenants boasts a nearly 100 percent retention rate of all of its properties. A rarity in commercial real estate today, EVBCO is the owner-operator. To learn more about EVBCO, visit http://www.evbco.com.