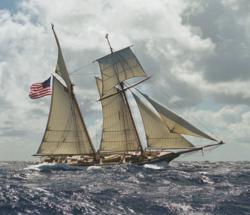 We are actively seeking board members who have a passion for the Lynx and all she represents about the spirit of America
St. Petersburg, FL (PRWEB) April 08, 2013
Lynx Educational Foundation announced here today that former Ambassador Brian G. Bowler of Malawi, Patricia L. Dimmitt of Dallas and J. Chad Ellard of St. Petersburg have accepted an invitation to join the foundation's board of directors.
The Lynx Educational Foundation, a non-profit, non-partisan, educational organization, operates the Privateer Lynx, a schooner inspired by the historic sailing tall ship that helped America win the War of 1812 against the British. Lynx is a floating history museum, open to the public, that is traveling America's east coast during the bicentennial of the War of 1812.
Lynx will be open to the public for tours and sailing excursions from St. Petersburg's Harborage Marina through April 14.
"We are actively seeking board members who have a passion for the Lynx and all she represents about the spirit of America, our heritage of preserving freedom, our legacy of overcoming historic struggles, and our foundation's mission to educate all Americans about our proud past," said Jeffrey Woods, Executive Director of the Lynx Educational Foundation. "Ambassador Bowler, Pat and Chad all have that passion, and we are excited to welcome them aboard."
ABOUT AMBASSADOR BRIAN G. BOWLER
Brian G. Bowler is a native of Malawi. Prior to his appointment as Ambassador to the United Nations, Ambassador Bowler was Malawi's first High Commissioner to India and Nepal. He also served as Malawi's Ambassador to Belgium, France, Switzerland, Luxembourg and Holland.
Currently, he is a major shareholder of the national breweries in Malawi and Tanzania. Previously, he was the Board Chairman of Malawi's main investment company, Malawi Development Corporation, which was Malawi's largest property developer.
Ambassador Bowler was also one of the founding trustees for the National AIDS Commission (NAC). This important body served as a main coordinating organ in Malawi's fight against this deadly disease. Ambassador Bowler has an MBA from the U.K. and a Bachelor of Science degree in mechanical engineering.
Ambassador Bowler's interests include all aspects of business, along with golf, flying and rugby. His passion in life is bringing a voice to the voiceless through his philanthropy projects that build birthing centers as well as water and sanitation programs.
ABOUT PAT DIMMITT
Patricia Dimmitt currently serves as Chief of Staff for Ambassador Brian G. Bowler. She has been involved with various philanthropic ventures, most notably Forgotten Diamonds, since 2006, a community based, grassroots organization in Sierra Leone, Africa, operating the Ruby Rose Resource and Educational Center, with 24 satellite libraries across four Chiefdoms and The Melonie Patty Primary School.
With her passion for children, education outreach and American history, Ms. Dimmit, an avid sailor, said becoming a board member for The Lynx Educational Foundation is a thrill and an honor. She said she is excited to bring her expertise to promote educational curriculum to children preserving the history and art of sailing through The Lynx Foundation.
Ms. Dimmitt, a financial analyst and accounting professional, was assistant producer for a media company that produced a documentary chronicling the amazing progress that Sierra Leone experienced after its civil war.
ABOUT CHAD ELLARD
Chad is owner and/or a director for several corporations and two real estate companies, and also owns Ellard Global Maritime LLC. He was educated at Ole Miss and Oxford.
Ellard sailed professionally for over a decade, racing a wide variety of yachts, many of the largest, fastest and prestigious in the world.
He was a member of the Championship team in the King's Cup in 2005 and 2008. He was a member of the Maxi World Championship team in 2009. He served as Deck Boss on Schooner Elena, which is the world's largest 2 masted schooner, for two years.
Ellard has accumulated over 100,000 ocean miles under sail, including 20,000 solo ocean miles. He has successfully crossed the Atlantic, Pacific and Indian Ocean, the Caribbean, South China, Yellow, Andaman and Coral Seas under sail. He currently maintains a British 200 Ton Master of Ships License.
PRIVATEER SAILING SHIP LYNX
Privateer Lynx, which is providing on-ship tours and sail-away excursions out of St. Petersburg through April 14, serves as a dynamic educational platform and provides a unique opportunity for students to have a hands-on learning experience in American history. Visitors on the ship learn about the War of 1812 as a significant element of American heritage and as a turning point in the development of our national identity. In addition to educational programming, charters and tours, Privateer Lynx has been hired in the past to train the cast and crew of the hit movie series Pirates of the Caribbean.
Privateer Lynx is currently on a five-year mission, which began in 2010, along the East Coast of the United States and Canada to celebrate the 200th anniversary of the War of 1812 and the Star-Spangled Banner.
The Lynx Educational Foundation is a 501(c)(3) non-profit, non-partisan, educational organization. Please visit our web site at http://www.privateerlynx.org or call 1-866-446-5969.