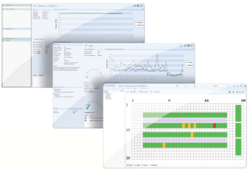 The data center manager spends about two minutes configuring the rack and everything else is done automatically. Management doesn't get any easier than that.
St. Louis, MO (PRWEB) April 08, 2013
No Limits Software announces the release of version 2.4 of their RaMP DCIM solution with enhanced visual views, new bulk data loading capabilities, change management for network configuration settings, detailed discovery log, support for Cisco Nexus equipment, advanced search capabilities, new network mapping features, management of intelligent cabinets, and support for hundreds of new data center devices.
RaMP v2.4 is the first DCIM solution to support auto-discovery and management of intelligent cabinets. With the dramatic growth in power consumption at the rack, measuring and managing power and cooling at the rack level becomes increasingly important in the overall management of data center capacity. Having sufficient power and cooling at the data center level does not mean there is sufficient power and cooling at the rack level. To address this level of management, No Limits Software is working with hardware partners to add intelligence at the rack level.
RaMP can map network connections to the port level for any active network device. It can automatically discover that a server is connected to port E8 on a Cisco switch, for example. Several important changes have been made in version 2.4 to enhance RaMP's ability to map the network in the data center. First, RaMP now tracks network configuration settings and can alert network managers to any changes made to the configuration. This will greatly reduce the time spent on troubleshooting issues caused by system modifications. Second, RaMP now allows users to manually make network connections. This will allow RaMP to support passive network connections such as patch panels.
While RaMP's extensive auto-discovery features will quickly add new assets, data centers often have equipment which cannot be discovered. No Limits Software engineers have taken a two-stage approach to address this. First, the new discovery log provides detailed information on the discovery and device identification process, allowing users to understand why a device might not have been automatically discovered (incorrect credentials, for example). Second, RaMP now allows users to import bulk data from spreadsheets, decreasing the time required to add new racks and other non-discoverable equipment.
No Limits Software will be demoing RaMP v2.4 and an intelligent cabinet in booth #1405 at the AFCOM Data Center World conference at Mandalay Bay in Las Vegas on April 28 - May 2. Dave Cole, the president of No Limits Software, will be presenting a session entitled "Managing Your Data Center One Rack at a Time" on Wednesday, May 1 from 8:45 - 9:45.
The RaMP DCIM solution provides the following benefits:

Auto-discovery of detailed device information
Power and environmental monitoring down to the device level
Server monitoring to identify servers which should be retired, virtualized or consolidated
Software and operating system license management
Automated change control to reduce MTTR and increase availability
Web services API for integration with other systems
PUE, DCiE and CADE energy management calculations
Accurate capacity planning data helps to reduce stranded power and shutdown risks
Device type roll-up views for an easy way to quickly compare device performance
Enhanced rack views (front and rear views, device type, status, power usage, temperature)
Tracking of data center tasks
Enhanced visual data center editor makes it easy to design and edit data center layout
The intelligent cabinet solution provides the following benefits:
Asset management – location of all rack assets down to the rack unit
Power management – rack PDU, device and rack power management
Rack security – access monitoring and lock control via badge or keypad
Environmental monitoring – temperature, humidity, pressure and other sensors
KVM – access to rack devices through a KVM switch
Touch screen and keyboard to provide information and control at the rack
About No Limits Software
No Limits Software is a leading provider of data center management solutions, including asset management, capacity planning, and power and environmental monitoring.
The RaMP DCIM solution provides asset management, auto-discovery of data center equipment, automated change log to track both authorized and unauthorized changes, and real-time monitoring for more accurate capacity planning.
No Limits Software and their partners are providing the path to enhanced data center management at the rack level through the development of intelligent cabinets. No Limits Software's patent-pending solution automates asset management to the rack unit while the intelligent cabinet appliance monitors and manages power, environmental conditions, security and alarming.