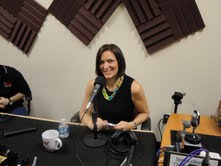 NOWaccount can improve cash flow, reduce risk, and save money.
Atlanta, GA (PRWEB) April 05, 2013
On April 1, 2013, co-hosts Stone Payton and Lee Kantor of BusinessRadioX®'s High Velocity Radio welcomed to the studio Lara O'Connor Hodgson to discuss her latest venture - NOWaccount Network Corporation.
Lara O'Connor Hodgson is President and CEO of NOWaccount. She has launched product and service businesses, raised capital, and served in executive management roles with Nourish (a patented consumer product for children), Insomnia Consulting LLC (an infrastructure development company), Dewberry Capital Corporation, DCH (a $400M private equity firm in which she was a founding principal), Dunk (a performance footwear and apparel brand), and iXL, an Internet development company. Hodgson has extensive experience in brand development, corporate strategy, business development, marketing, and operations. She has worked with companies such as Nike, Coca-Cola, The Home Depot, Keds, and others.
NOWaccount is a merchant services system that works for B2B businesses and their commercial and government customers. More than 90% of business-to-business (B2B) sales require suppliers to manage and fund the transaction, largely because business and government customers depend on the free and flexible credit provided by their vendors. For many business customers, accounts payable is their largest source of capital, which is free and has no fixed deadlines for payment. As a result, the largest use of capital for many B2B businesses is accounts receivable.
Hodgson explained, "NOWaccount Network was created to help move the burden of managing and funding trade from small businesses to a financial system that leverages low-cost capital provided by the capital markets, advanced risk managment technology to control cost, and innovative information exchange technology."
As a result, continued Hodgson, NOWaccount provides the B2B supplier with immediate access to the capital that has been tied up in outstanding receivables. "NOWaccount can improve cash flow, reduce risk, and save money."
To hear more about NOWaccount Network Corporation, tune in to High Velocity Radio.
About Stone Payton:
For over 24 years, Stone Payton has been helping organizations and the people who lead them drive their business strategies more effectively. He is a managing partner at BusinessRadioX® and the author of SPEED®: Never Fry Bacon In The Nude: And Other Lessons From The Quick & The Dead, and has dedicated his entire career to helping others produce better results in less time.
About Lee Kantor:
Lee Kantor has been involved in Internet radio, podcasting and blogging since he started the Dr. Fitness and the Fat Guy show in 2005. Since then, Lee has interviewed well over 1000 entrepreneurs, business owners, authors and celebrities on a variety of shows and at live events. In addition to his hosting duties, Lee is a managing partner at BusinessRadioX® and is committed to helping entrepreneurs and business owners in Atlanta learn how to use radio to dramatically grow their businesses.
About High Velocity Radio:
http://highvelocityradio.businessradiox.com
High Velocity Radio celebrates Top Performers Producing Better Results In Less Time. The show brings in business leaders and experts to talk about their methods and to help listeners develop the Competence, Confidence, and Commitment to Succeed With SPEED.
About BusinessRadioX®:
BusinessRadioX® provides a turnkey solution for business owners who want to leverage the power of internet radio to meet their best prospects, establish credibility for their organization and heighten the placement of their brand in search engines rankings. With a professional venue and a proven formula, BusinessRadioX® helps hosts podcast their shows and create a regular stream of dynamic content to share with their prospects and feed the search engines every week. Programs are recorded and streamed live to the internet from our studios in the greater Atlanta area. For more information or to hear a live show, visit: http://www.businessradiox.com.