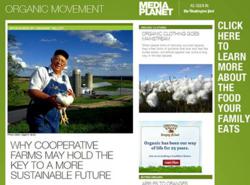 Consumers appreciate what we're doing.
New York, NY (PRWEB) April 05, 2013
Large food processing conglomerates have been mass producing genetically-modified, pesticide-treated foods, which for decades, have ended up in the aisles of our local supermarkets and eventually made it onto our kitchen tables without consumer knowledge of their potentially harmful effects. More recently, according to Mediaplanet's special digital section, The Organic Movement, awareness has increased significantly as more and more Americans have embraced an organic lifestyle and its health-inducing benefits.
While the myriad of health benefits are apparent, the campaign has joined industry leaders to shed light on the positive social and economic impacts of going organic. To show how collaboration and forward thinking have galvanized the movement, the campaign teamed up with the nation's largest cooperative of organic farmers, CROPP (Cooperative Regions of Organic Producing Pools).
The roots of the CROPP can be traced back 25 years ago, when a handful of family farmers and George Siemon, an innovative "eco-preneur," gathered in a conference room at a hotel in New York with a shared vision. When they emerged they had the blueprint for CROPP, which has revolutionized the organic movement and set a precedent for cooperative farming methods.
CROPP is not a processor, but a marketing cooperative that provides the packaging and recognition of a national brand, allowing its members to compete on a national level. Its brands, Organic Valley and Organic Prairie, have become household names. Currently comprised of 1,814 small-holder farmers in over 35 states, its regional model focuses on organic and sustainable farming that supports the local economy. The co-op provides resilience for small-holders that are struggling as corporate farms dominate the market, ensuring the future of a new crop of organic family farmers.
Since agribusiness is largely motivated by profit at the cost of consumer safety, long-term sustainability, and environmental protection, CROPP is responding with a powerful, unified voice for healthier foods and agricultural sustainability - one that is actively urging the USDA to mandate that all genetically modified organisms be eliminated from seeds. Organic Valley and CROPP are the "result of what happens when people take their own lead," says Siemon, "Consumers appreciate what we're doing."
Click to read more: Why cooperative farms may hold the key to a more sustainable future