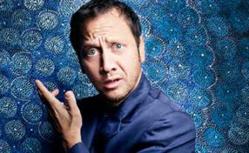 "Trailers are now as much of an entertainment event as the movies they promote."
New York, NY (PRWEB) April 05, 2013
Rob Schneider and Aisha Tyler will set the comic tone as hosts of the 14th Annual Golden Trailer Awards, a fun-filled show that celebrates the year's best movie previews. Also announced by Evelyn Brady-Watters, GTA Executive Director and Monica Brady, Executive Producer, are the nominations for 2013, a year marked by a record number of submissions. The live event will take place at the Saban Theatre in Beverly Hills, CA on Friday, May 3. For more information, please see http://www.GoldenTrailer.com.
THE 2013 NOMINATIONS:
According to Evelyn Brady-Watters, "2013 was a banner year for entries. We received over 1,200 trailer submissions, which marks an 11% increase over last year. This speaks to the growing importance of the Golden Trailers for the movie marketing business."
With well over 5 billion streaming views worldwide in 2011, trailers are now as much of an entertainment event as the movies they promote. The Golden Trailer Awards are the world's top honors for these previews, recognizing achievements in categories ranging from Best Summer Blockbuster and Best Comedy to Best Documentary, along with Best Video Game and favorites such as Trashiest Trailer and the Golden Fleece Award, the prize for best trailer for the worst movie.
The major trend in trailer production this year is in the length of the preview reels, explains Monica Brady: "The exploding viewership of trailers on mobile devices has steadily shortened the average trailer from 2:30 minutes to two minutes and change."
Awards in the 16 "Show Categories" below will be presented at the live event, along with an additional trophy for "Best in Show." In total, 70 Golden Trailer Awards will be given this year. Go to the Awards page of the Golden Trailer website for the full list of nominees.
HOSTS ROB SCHNEIDER AND AISHA TYLER
A prolific actor, writer, producer and comedian, Rob Schneider is best known for his four-year stint on Saturday Night Live, which earned him three Emmy nominations and a Peabody Award. His extensive film work includes many productions he's worked on with Adam Sandler's company, Happy Madison, notably "Deuce Bigalow: Male Gigolo," "The Hot Chick," "The Animal" and the hit "Grown Ups."
Aisha Tyler is the voice of sexy superspy Lana on FX's hit animated series, "Archer", a co-host on CBS's "The Talk," and the creator and host of the award-winning podcast "Girl on Guy with Aisha Tyler." She is the former host of E! Entertainment's "Talk Soup," and her Comedy Central special, "Aisha Tyler is Lit: Live at the Fillmore," was a hit, as was her collection of comic essays: "Swerve: Reckless Observations of a Post-Modern Girl." This July, she will host the CW's revival of the improv series, "Whose Line Is It Anyway," and release her latest book, "Self Inflicted Wounds: Heartwarming Tales of Epic Humiliation."
______________________
THE 14TH ANNUAL GOLDEN TRAILER AWARDS
May 3rd, 2013 – Saban Theatre, Beverly Hills, CA
SHOW CATEGORIES
Movie Title/Trailer Version – Studio/Distributor, Trailer House
SUMMER 2013 BLOCKBUSTER TRAILER:
"Iron Man 3" – Walt Disney Studios Motion Pictures, Trailer Park
"Fast & Furious 6" – Universal, AV Squad
"Man of Steel" – Warner Bros., Jennifer Horvath
"Pacific Rim" – Warner Bros., Trailer Park
"World War Z "Day"" – Paramount Pictures, Buddha Jones
BEST ACTION:
"End Of Watch" – Open Road Films, Ignition Creative
"GI Joe: Retaliation" – Paramount Pictures, AV Squad,
"Iron Man 3" – Paramount Pictures, Trailer Park
"Oblivion" – Universal, Picture Production Company
"Skyfall" – MGM/Columbia Pictures, Picture Production Company
BEST ANIMATION/FAMILY:
"Oz the Great and Powerful" – Walt Disney Studios Motion Pictures, Wild Card
"The Hobbit" – Warner Bros., Ignition Creative
"Monsters University" – Walt Disney Studios Motion Pictures/Pixar, Trailer Park
"Turbo "Fast Lane" – 20th Century Fox/Dreamworks, Buddha Jones
"Wreck it Ralph "Dreams" – Walt Disney Studios Motion Pictures, mOcean
BEST COMEDY:
"This is 40 "Trailer 4" – Universal, Workshop Creative
"The Campaign" – Warner Bros., Create Advertising Group
"The Hangover Part III""Teaser" – Warner Bros., mOcean
"Moonrise Kingdom" – Focus Features, Giaronomo Productions
"Red 2" – Summit Entertainment, Open Road Entertainment
BEST DOCUMENTARY:
"Brooklyn Castle" – Producers Distribution Agency, Wheelhouse Creative
"The Queen of Versailles" – Magnolia Pictures, Mark Woollen & Associates
"Searching for Sugar Man" – Sony Pictures Classics, The Grossmyth Company
"Waiting For Lightning, Samuel Goldwyn Films, Evolver Creative Inc.
"We Steal Secrets: The Story of WikiLeaks" – Focus World, Jump Cut Creative
BEST DRAMA:
"42" – Warner Bros., AV Squad
"Argo" – Warner Bros., AV Squad
"Flight "Save" – Paramount Pictures, Buddha Jones
"Lincoln" – 20th Century Fox/DreamWorks/Participant, Wild Card
"Zero Dark Thirty" – Columbia Pictures, Ignition Creative
BEST HORROR:
"Mama" – Universal, Buddha Jones
"The Last Exorcism Part II" "A Battle" – CBS Films, Buddha Jones
"The Possession" "Inside" – LIONSGATE, Buddha Jones
"Sinister" – LIONSGATE/Summit, Open Road Entertainment
"V/H/S" – Magnet Releasing, AV Squad
BEST INDEPENDENT TRAILER:
"Beasts of the Southern Wild" – Fox Searchlight, Mark Woollen & Associates
"Mud" – Roadside Attractions, AV Squad
"The Loneliest Planet" – IFC Films/Sundance Selects, Jump Cut Creative
"The Place Beyond the Pines" – Focus Features, Mark Woollen & Associates
"Silver Linings Playbook" "Never Met" – Weinstein Co., Buddha Jones
BEST MUSIC:
"Argo" – Warner Bros., AV Squad
"Django Unchained" – The Weinstein Company, Ignition Creative
"Flight "Save" – Paramount Pictures, Buddha Jones
"The Great Gatsby" – Warner Bros. Trailer Park
"Les Miserables" "I Dreamed a Dream" – Universal, Seismic Productions
BEST ROMANCE:
"The Great Gatsby" – Warner Bros., Trailer Park
"Safe Haven" "Secret" – Relativity Media, mOcean
"Silver Linings Playbook" – The Weinstein Co., Motive Creative
"Warm Bodies" – Summit Entertainment, Aspect Ratio
"The Words" – CBS Films, The Ant Farm
BEST THRILLER:
"THE CALL" "Escape" – TriStar, mOcean
"Jack Reacher" – Paramount Pictures, TRANSIT
"Skyfall" – Sony Pictures, Picture Production Company
"Stoker" – Fox Searchlight, Empire Design
"Trance" – Fox Searchlight, Motive Creative
BEST VIDEO GAME TRAILER:
"Crysis 3" "Momentum Trailer" – Crytek, AV Squad
"Cyberpunk" "2077 Teaser" – Platige Image
"Dead Island Riptide" "CGI Announcement Trailer" – Buddha Jones
"InFamous: Second Son" – Sony Computer Entertainment of America
"Tomb Raider" – Square Enix, Ignition Creative
THE DON LAFONTAINE AWARD FOR BEST VOICE OVER:
"Cirque Du Soleil: Worlds Away" – Paramount Pictures, AV Squad
"Cockneys V's Zombies" – Shout! Factory, The Editpool
"John Dies at the End" – Magnet Releasing, M3 Creative
"Lincoln" – 20th Century Fox/DreamWorks/Participant, Mark Woollen & Associates
"On the Road" – IFC/Sundance Select, Mark Woollen & Associates
GOLDEN FLEECE:
"Cloud Atlas" – Warner Bros., Cole Barager
"Grabbers" – IFC Films, Wonderland
"Hit & Run" – Open Road Films, Buddha Jones
"The Last Stand" – LIONSGATE, AV Squad
"The Man with the Iron Fists" – Universal
MOST ORIGINAL TRAILER:
"Django Unchained" – The Weinstein Company, Trailer Park
"Frankenweenie""Be Thrilled" – Walt Disney Studios Motion Pictures/Pixar, mOcean
"Monsters University" – Walt Disney Studios Motion Pictures/Pixar, Trailer Park
"Stoker" – Fox Searchlight, Empire Design
"This is the End" "Redband Trailer" – Sony/Columbia Pictures, Workshop Creative
TRASHIEST TRAILER:
"Hansel & Gretel" "Get Baked" – Paramount Pictures, Hungry Monster Entertainment
"Inappropriate Comedy" "Offensive" – Freestyle Releasing, mOcean
"Killer Joe" – LD Entertainment, AV Squad
"Movie 43" – Relativity Media, Open Road Entertainment
"Spring Breakers" – Annapurna Pictures, Mark Woollen & Associates