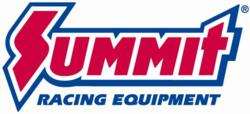 Tallmadge, OH (PRWEB) April 05, 2013
Ridetech Smooth Body Shocks from Summit Racing Equipment can drastically improve a vehicle's road manners.
The RQ (Ride Quality) Series Shocks are designed for the owners of street rods, musclecars, and classic cruisers who want easy-to-install replacements for their OE shocks. They offer a smooth and predictable ride with a perfect blend of driving feel and comfort. These non-adjustable shocks come factory-tuned for excellent performance in a variety of situations.
The HQ (Handling Quality) Series Shocks are intended for enthusiasts who want to fine-tune their suspension for different driving environments. They have a wide rebound adjustment range, which means HQ Series Shocks can be set up for a morning of autocrossing, then readjusted for a comfortable cruise down the boulevard.
Both HQ and RQ Shocks feature a large-piston monotube design that creates cooler internal temperatures for more consistent rebound performance. Each shock is built to demanding tolerances to provide miles of trouble-free use.
RQ Series Shock Applications

Universal Street Rod/Custom
1953-2012 GM Cars and Trucks
1955-1996 Ford Cars and Trucks
1960-2005 Chrysler/Dodge/Plymouth Cars and Trucks
PRODUCT LINK:: http://www.summitracing.com/search/product-line/ridetech-rq-series-shocks?keyword=ridetech%20rq&ddsc=1
HQ Series Shock Applications

Universal Street Rod/Custom
1982-85 Chevy Impala
1994-96 Chevy Impala
PRODUCT LINK:: http://www.summitracing.com/search/product-line/ridetech-hq-series-shocks?keyword=ridetech%20hq&ddsc=1
Summit Racing Equipment
http://www.SummitRacing.com
1-800-230-3030