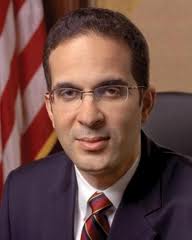 Mayor Taveras is an inspiration to people of all races and ethnicities for his leadership on minority business development.
Bridgeport, CT (PRWEB) April 07, 2013
Providence, RI Mayor Angel Taveras will be presented with the Greater New England Minority Supplier Development Council's 2013 President's Award at the GNEMSDC Annual Awards Gala on April 25 in Framingham, MA. Mayor Taveras is a nationally recognized leader who recently received a $5,000,000 award from the Bloomberg Foundation for the City of Providence success in creating effective public education models. The GNEMSDC President's Award is being presented to Mayor Taveras for his leadership in the area of minority contracting. Mayor Taveras follows some impressive previous recipients of the GNEMSDC President's Award, including Massachusetts Governor Deval Patrick, Former Connecticut Governor Jodi M. Rell, Connecticut State Treasurer Denise Nappier, and U.S. Senator Richard Blumenthal.
Angel Taveras, the City's 37th Mayor, grew up on the South Side of Providence and went from Head Start to Harvard via the Providence Public Schools. As a third grader at the Mary Fogarty Elementary School, Angel was encouraged by his teacher to set big goals. After graduating from Harvard, Angel attended Georgetown University Law Center to pursue his childhood dream: becoming a lawyer in order to help others. As an attorney, Angel established himself a litigator and a widely-respected elections lawyer.
The Greater New England Minority Supplier Development Council is the largest minority business development organization in New England with over 200 corporate members and over 400 certified minority business enterprises. The mission of the GNEMSDC is to significantly increase opportunities for certified MBEs with large public and private buying organizations.The GNEMSDC is the regional affiliate of the National Minority Supplier Development Council.