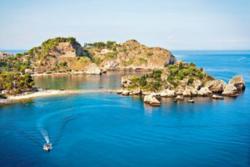 (PRWEB UK) 5 April 2013
Riva del Garda, at the northern end of Lake Garda, is set amongst mountainous scenery whilst still enjoying a Mediterranean climate. The old town's narrow cobbled streets with cafés and terraces wind down to a small harbour and lakeside promenade. Each summer the town celebrates the 'Notte di Fiaba', the night fairy tale, on the last Saturday in August when theatre, music, and firework displays take over Riva del Garda. This year's four magical days and nights of festivities fall on 22 – 25 August, with the 2012 festival theme of the adventure of Tom Sawyer.
Customers will stay at the four-star Hotel Continental, Torbole for seven nights based on four sharing from £499 per adult on a half-board basis. This hotel offers a range of facilities such as an indoor and outdoor pool, sauna, whirlpool, small fitness room, free Wi-Fi and free bike hire. As part of the Discovery Package customers will explore Lake Garda through various excursions including day trips to Venice, a lake tour, Dolomites tour and a wine tour.
For customers looking to explore Lake Garda whilst relaxing in luxury accommodation the Caesius Thermae Spa, Bardolino is available for seven nights from £640 per adult. The hotel offers a wellness area with Turkish baths, Finnish sauna, and fitness room with personal trainer, live music and free Wi-Fi. Customers can also hire bikes and use the on-site tennis courts which are open throughout the year.
From July through to August 2013 the Vittoriale degli Italiani villa hosts this year's Vittoriale Music Festival. The annual festival sees performances from top international artists, and includes operettas, classical music, plays and ballet. The New York City Ballet Company, the Buena Vista Social Club, and Patti Smith were amongst last year's performers. The performances take place in an open-air theatre, part of the Vittoriale degli Italiani villa designed by architect Gian Carlo Maroni. Formerly home to the famous poet Gabrielle D'Annunzio, the villa is now open to the public. The grounds of the former villa, now a museum, include extensive gardens filled with statues and tropical plants, and an entire war battleship.
All Discovery Packages for Italian Lakes holidays during summer 2013 must be booked before 30 April 2013 with flights transfers and accommodation included as standard, departing from 17 UK airports. To find out more information or to book a Discovery Package contact Thomson Lakes and Mountains on 0871 231 2256 or visit http://www.thomsonlakes.co.uk.