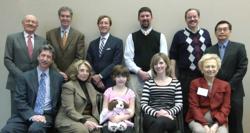 "ACGT was the first to be there, to say that cell and gene therapies can be a new platform therapy, and giving literally lifesaving grants to scientists who cannot get them from the Federal system," Dr. Carl H. June Perelman School of Medicine UPenn
Stamford, Connecticut (PRWEB) April 08, 2013
Alliance for Cancer Gene Therapy, Inc. (ACGT), http://www.acgtfoundation.org, https://twitter.com/acgtfoundation, and https://www.facebook.com/acgtfoundation, today announced that seed money provided for innovative T-Cell immunotherapy cell and gene therapy research has led to two successful Clinical Trials for treatment of Acute Lymphoblastic leukemia resulting in remissions in both children and adults who had no other hope of recovery. The early clinical trials demonstrate how gene therapy converts the body's own T-cells into 'smart weapons' that target cancer like never before. These remarkable medical breakthroughs come just a little over a decade after ACGT was founded by Barbara and the late Edward Netter, for the express purpose of funding unproved and what some considered risky cell and gene based cancer therapies. ACGT recently announced an additional $500,000 in awards to two Young Investigators to fund more cutting-edge cell and gene therapy cancer research, which is particularly noteworthy as the National Institutes of Health has abruptly eliminated about 80% of funding for early career investigators as part of the sequester.
According to Michel Sadelain, MD, PhD, ACGT Scientific Advisory Council member and Research Fellow, and senior author of the Acute Lymphoblastic Leukemia study published March 21st in the journal Science Translational Medicine, "This is a very exciting finding for patients and a major achievement in the field of targeted immunotherapy." Sadelain explained that these successful treatments would not have been possible had not been for the startup funding from ACGT. "It wasn't easy to get funding to support such innovative, unproved therapies. The grant from ACGT was our first major grant to launch our T-cell program." Dr. Sadelain is the Director of the Center for Cell Engineering and Gene Transfer Expression Laboratory at Memorial Sloan-Kettering Cancer Center.
Dr. Sadelain, and Dr. Carl H. June, Perelman School of Medicine at the University of Pennsylvania, were each awarded $1 million in ACGT Clinical Investigator grants in 2004 to fund research using immune-mediated gene therapy for the treatment of lymphoma or leukemia. They were the first two Clinical Translational grants that ACGT awarded. Just last week, ACGT received 49 letters of intent, with a majority focused on T-cell therapy research, in response to its Request for Applications for 2013 Clinical Translational grants that will be awarded this Spring.
Dr. June, ACGT Scientific Advisory Council member and leader of the team that successfully treated two young leukemia patients, Emma Whitehead and Maddie Major, and seven other adult leukemia patients at the Abramson Cancer Center of the University of Pennsylvania (Penn) also commented on the cutting-edge research ACGT supported: "Funding was not available from the National Institutes of Health (NIH) for gene therapy (in 2004). ACGT was the first to be there, to say that cell and gene therapies can be a new platform therapy, and giving literally lifesaving grants to scientists who cannot get them from the federal system."
ACGT is the only not-for-profit in the U.S. solely dedicated to cancer cell and gene therapy treatments for all types of cancer. 100% of contributions go directly to research. ACGT has funded 41 grants since its founding in 2001 totaling almost $24 million to fund both basic research and clinical translation. ACGT's Scientific Advisory Council, comprised of 16 renowned physicians and researchers, conducts a rigorous review process. Seventeen ACGT funded research projects have been approved for human clinical trials, 11 of which are underway. To donate, please visit http://www.acgtfoundation.org or call 203.358.8000.
# # #
Press Contact:
Deborah Burns, 203.257.3163
deborah(at)burnscommunications(dot)net
NOTE TO EDITOR: Interviews with Dr. Michel Sadelain, Dr. Carl June, and Dr. Savio Woo are available here:
June: https://vimeo.com/62947203, Sadelain: https://vimeo.com/63174509, Woo: https://vimeo.com/63188629.
PHOTO CAPTION: ALLIANCE FOR CANCER GENE THERAPY President and Co-Founder, Barbara Netter, recently attended a gathering of top donors and volunteers where they heard about advances at the Abramson Cancer Center of the University of Pennsylvania, and celebrated seven-year-old Emily Whitehead's one year of being cancer free. Whitehead received ground-breaking gene therapy treatment, for lymphoblastic leukemia, which was made possible through research done at Penn Medicine by Dr. Carl June and colleagues.
Pictured on the bottom row, left to right: Bruce Levine, M.D., Director, Clinical Cell and Vaccine Production Facility; Barbara Netter; Emily Whitehead, her mother, Kari Whitehead; and Madlyn Abramson, Honorary Chair, Abramson Cancer Center Director's Leadership Council. Top Row, from left to right: Ralph Muller, Chief Executive Officer, University of Pennsylvania Health System; Daniel Keating, III, Chair, Abramson Cancer Center Director's Leadership Council; J. Larry Jameson, M.D., Ph.D., Executive Vice President, University of Pennsylvania for the Health System and Dean, Perelman School of Medicine at the University of Pennsylvania; Tom Whitehead, father of Emily Whitehead; Stephan A. Grupp, M.D., Ph.D., Director of Translational Research, Children's Hospital of Philadelphia; Chi V. Dang, M.D., Ph.D., Director, Abramson Cancer Center