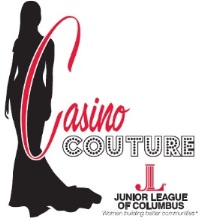 This should be our best event to date with incredible auction items, casino gaming and honoree Diane Shelby.
Columbus, OH (PRWEB) April 07, 2013
On April 27, 2013, Junior League of Columbus is celebrating its 90th anniversary and ongoing legacy of women building better communities at its annual gala - Casino Couture. This year's event, being held at the Sheraton Capitol Square, features fabulous food, casino games, a photo booth and exciting silent and live auctions. The event will be bringing community leaders and volunteers together to raise funds for the Junior League's initiatives throughout Greater Columbus.
At each year's event, an outstanding sustaining member is honored for her commitment to community service. This year, we are pleased to honor Diane Selby. Diane has been a member of the Junior League of Columbus since the 1963. Diane has held a variety of league positions over the years, including serving on the board for eight years. She also had the pleasure of serving as the JLC representative on the Columbus Blue Plan Committee, which was the forerunner to the Mid-Ohio Regional Planning Commission, and the Columbus Arts Council. She also served on the Town Franklin Neighborhood Task Force as well as a task force that established libraries in inner city elementary schools.
She was part of the original group that studied the Kelton property for possible uses of the building. Today, the Kelton House Museum and Garden are viewed as a local treasure. She was Kelton Properties Chairman at the time that the Carriage House was about to be condemned and was faced with making the necessary improvements to save it from being demolished. Diane has been involved with the Kelton House from that time on. She has continually served as a docent from the program's beginnings. She currently volunteers both as a regular docent and in the Underground Railroad program at the Kelton House.
Additionally Fox 28/ABC 6 reporter Maria Durant will be the celebrity emcee for the evening. Maria was honored with the Junior League's Community Award in 2012 for her commitment to numerous causes in the Columbus community. She is a breast cancer survivor who dedicates her time to Pelotonia and Race for the Cure.
Melissa Kruse, Gryphon partner and Chair of this years' event stated, "This year should be our best event ever. The silent and live auction are filled with interesting items, including trips to Orlando and the Mexican Rivera, Designer Purses and other accessories, tickets to the Indianapolis 500, Memorial Tournament Passes and OSU football tickets on the 50 yard line. I am so excited to be a part of this event honoring the league's anniversary and such amazing women."
Doors will open at 6:30 p.m. and the festivities will end at 11:00 p.m. Attendees are encouraged to wear festive cocktail attire in honor of the couture theme, black tie is optional. Tickets are $125 in advance or $150 at the door. For more information or to buy tickets, please contact the JLC offices at (614) 464-2717 or visit JLC's online store at http://www.jlcolumbus.org.