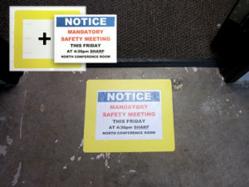 "Floor signs are great for displaying messages. They stay down, they are durable, and the bright color border instantly draws your attention to them."
Lake Oswego, OR (PRWEB) April 09, 2013
Warning or informational signs are typically placed on walls or at eye level to get the attention of pedestrians. However, tests have been conducted that will prove pedestrians are more likely to see signs when they are placed on the floor because people look where they walk. Creative Safety Supply is now offering industrial clear floor frame signs to communicate important messages.
Industrial clear floor frames are a great way to display messages, notices, location information, and more on almost any type of floor. Creative Safety Supply will customize floor signs that meet individual needs to make sure every work or public environment is safe. The specialized floor signs are constructed with bright yellow border that will grab the attention of even the sleepiest employee, visually jolting them into a mode of anticipation, care and safety.
The floor signs overall dimensions of 12.5 inches by 15 inches are large enough to draw attention to messages or warnings. Installation is simple and easy with the peel-n-stick application. The adhesive backing is strong enough to stay put, holding up against extreme truck or foot traffic. The durable low profile material will last a long time even when trucks are driven over it, pallet jacks or pallets are dragged across it, or just plain old foot traffic.
When safety is at risk, warnings must be displayed to prevent accidents from happening. When people are walking in an unfamiliar place, they tend to watch where they are walking. More often than not, a small step that is not clearly marked will cause people to fall. Accidents need not happen when a floor sign is displayed as "Caution! Watch Your Step!"
A store owner commented, "Floor signs are great for displaying messages. They stay down, they are durable, and the bright color border instantly draws your attention to them."
For more information about Industrial Clear Floor Frame Signs, please visit http://www.creativesafetysupply.com/floor-marking-tape/ or call toll-free (866)777-1360 to speak with a professional representative.