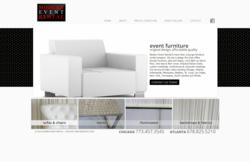 The website does a great job of showing the quality and exceptional pieces that we offer our customers
(PRWEB) April 09, 2013
Modern Event Rental, a lounge furniture rental company, has just launched their new website that was built by Idea Marketing Group.
MER supplies quality lounge furniture rentals. They offer basic pieces with a unique flare and custom pieces are also available. They offer chairs, tables, backdrops as well as illuminated dance floors that can bring any event to the next level. Like many businesses, Modern Event Rental was in need of an effective website that encompasses all that they have to offer and is presented in a professional fashion. Idea worked hand-in-hand with MER to build a website that was effective and easy to use. The website was built on a Wordpress platform, which enables both front and backend users to easily navigate the site and backend users can easily make any changes or updates necessary.
Modern Event Rental works to make events stand apart from all others with their quality-made event furniture. The new website features interactive photo galleries, showing off their rental pieces they offer. These galleries are arranged by type of furniture which establishes organization on the website and makes it easy to navigate. The galleries are vital to MER success because they can now show their customers the quality and appeal of their event rental furniture.
Something very unique about this website is that the Modern Event Rental website and Facebook page are synced up so that when a photo is added on Facebook, it is automatically added to the appropriate photo gallery on the website. This feature makes MER very efficient when managing time because rather than updating multiple pages, they can update one that transfers through all platforms.
Pleased with their website and its effectiveness, Modern Event Rental owner, Siddarth Sawhney, says "This website has exceeded our expectations and couldn't be happier with our investment. Idea did a great job at conveying the personality and exceptional quality that Modern Event Rental has to offer."
To check out the new Modern Event Rental website please visit http://www.moderneventrental.com.