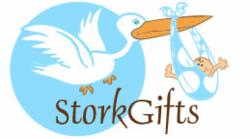 (PRWEB) April 05, 2013
The weather is starting to get warmer and everyone is thinking about Spring Cleaning. It is important to involve kids in the cleaning process. It makes them feel like they have some responsibilities and also teaches and encourages good habits at a young age. There are several ways a youngster is able to help out at home with cleaning.
Toddlers are able to pick up their dirty laundry and toys, as well as hang up their clothes. One helpful trick is to make it fun. StorkGifts has several products that encourage children to participate in these tasks. They will be excited to put their clothes in their own personalized laundry bin. The personalized laundry bins can be decorated in their choice of designs. Picking up their toys at the end of a fun day of play becomes more interesting when they can put them in a personalized storage stool or a personalized toy box. Hats, coats, robes, and backpacks can be hung on a personalized coat rack. Books can be placed in a personalized book caddy.
StorkGifts, an online boutique specializing in personalized baby and kids gifts just released two types of personalized storage stools. Each has a 'secret compartment' for toy storage. One style of personalized storage stools is available with the name and design painted on. The other style is a personalized puzzle storage stool. This one has the child's name in puzzle pieces.
Another trick is to make a game out of clean up time. Children can race to see who can be the first one to place their dirty laundry, toys , books and hanging items in the appropriate personalized laundry bin, personalized toy box, personalized storage stool, personalized coat rack or personalized book caddy. Put on music to see if the child can put all the items in the proper receptacle: personalized laundry bin, personalized toy box, personalized storage stool, personalized coat rack or personalized book caddy, before the song ends.
Older children can also help by organizing their desk by using a personalized desk sorter. Markers, crayons, scissors, tape, and other items can be stored in a personalized desk sorter. Be creative! A personalized desk sorter can also be used to store hair accessories such as brushes, combs, detangling spray and headbands. Jewelry can be contained in one of StorkGifts many styles of personalized jewelry boxes. Every personalized jewelry box comes with the child's name and is decorated in the user's choice of designs.
Kids love dusting. Give them a soft rag or a duster and let them see how they are able to contribute to cleaning day.
By encouraging and expecting your kids to help clean, parents are empowering them to become a cooperative member of a family for a lifetime.