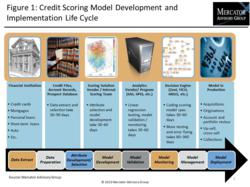 For the financial institutions that employ either custom or generic credit scoring models for credit decisions, evolving regulations require a new level of transparency that the old 'black box' approach to credit scoring can no longer satisfy."
Boston, MA (PRWEB) April 07, 2013
A report by Mercator Advisory Group presents research that will help payments industry participants understand the basics of credit scoring and scoring model development, as well as the best practices and evolving methods being used by lenders and scoring vendors for deployment of scoring products.
Mercator Advisory Group's new report, Trends in Credit Scoring and Model Development, also examines market dynamics that have impacted credit risk in the U.S. over the last five years and the ways these shifts have impacted consumer credit scores.
"The ubiquity of credit scores and the relative obscurity of the processes that determine those scores is one of the more intriguing juxtapositions in the financial world. Though many consumers in the 'banked' population in the U.S. can recite their credit scores from memory due to the broader access that credit bureaus have granted in recent years, probably only those who work in statistical science could take a meaningful stab at how each score is really determined," David Fish, senior analyst in Mercator Advisory Group's Fraud, Risk, and Analytics Advisory Service and author of the report comments. "Furthermore, lenders tend to develop and utilize custom scoring models and scorecards for nearly every distinct product line, further distancing credit decisioning data from the credit bureau information that consumers can access directly. For the financial institutions that employ either custom or generic credit scoring models for credit decisions, evolving regulations require a new level of transparency that the old 'black box' approach to credit scoring can no longer satisfy."
Highlights of this report include:

An overview of the credit scoring model development and implementation life cycle
A review of the credit scoring products available for use by participants in the payments industry
Discussion of trends in consumer credit and credit scores in the United States
Commentary on expanding regulatory oversight of credit reporting agencies and scoring model owners
Examination of best practices and evolving methods for credit scoring and using credit scores, as well as supplemental and alternative data, in lending risk decisions
This report is 20 pages long and has eight exhibits.
Companies mentioned in this report include: 1010 Data, ARGO, Certegy Check Services, Chex Systems, Clarity Services, CoreLogic, DataX, Dun & Bradstreet, Early Warning Services, Equifax, Experian, Factor Trust, FICO, IBM SPSS, ID Analytics, Innovis, L2C, LexisNexis, Marketing Associates, Microbilt, SAS, Scoring Solutions, Telecheck, TransUnion, VantageScore Solutions, and Zoot Enterprises.
Members of Mercator Advisory Group Credit Advisory Service and Fraud, Risk, and Analytics Advisory Service have access to this report as well as the upcoming research for the year ahead, presentations, analyst access, and other membership benefits.
Please visit us online at http://www.mercatoradvisorygroup.com.
For more information and media inquiries, please call Mercator Advisory Group's main line: (781) 419-1700, send e-mail to info(at)mercatoradvisorygroup(dot)com.
For free industry news, opinions, research, company information and more visit us at http://www.PaymentsJournal.com.
Follow us on Twitter at http://twitter.com/MercatorAdvisor.
About Mercator Advisory Group
Mercator Advisory Group is the leading, independent research and advisory services firm exclusively focused on the payments and banking industries. We deliver pragmatic and timely research and advice designed to help our clients uncover the most lucrative opportunities to maximize revenue growth and contain costs. Our clients range from the world's largest payment issuers, acquirers, processors, merchants and associations to leading technology providers and investors. Mercator Advisory Group is also the publisher of the online payments and banking news and information portal PaymentsJournal.com.