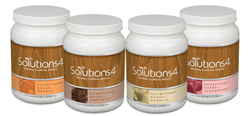 Barrington, NJ (PRWEB) April 06, 2013
For many Americans, eating healthy can be difficult to accomplish. With today's fast-paced lifestyles, individuals are often rushing out the door to get to work, school, or other social arrangements. This makes it hard to make the time to prepare nutritious, wholesome meals. Often people go for what is quick and easy, the fast foods. Or just as bad, we skip meals. The problem with this is these people are not getting nutrients in the body and the body begins to starve itself, which is a very unhealthy state.
Luckily, for these busy individuals (most of us), a new trend is here to help have healthy meals on the go. These easy and quick-prep protein shakes, better known as meal replacement shakes, are a great alternative to high-calorie meals that are packed with sugars, fat and empty calories. They are light, refreshing, and offer balanced nutrition that taste delicious in chocolate, berry, vanilla, and mocha flavors.
Some of the key benefits of these shakes include:
•Vitamins and minerals to give the body the nutrients it needs when one can not eat real foods
•Increase in metabolism and energy
•Weight management
•Decreased appetite
The most valuable benefit of these meal replacement shakes is the high amount of protein content. Protein is the building block of muscle, and muscle is the body's best engine for utilizing fat as an energy source. Therefore, the shakes help to support the body in lowering body fat. Additionally, the equal ratio of proteins and carbohydrates in the shakes provides energy for healthy weight loss. A key in protein though is to be sure it is hormone and antibiotic free, which can be in both foods and supplements. This is a very important thing to look for!
Persons interested in replacing a meal with these protein shakes should also avoid ones with extra fillers and preservatives. These additives actually result in less protein per serving, and the artificial preservatives are not a beneficial way to lose or maintain weight. Fillers can also be dirt, coal, rodent hairs and petroleum. And to make things worse these do not have to be listed on the ingredients with up to half of them containing it! Be sure to get supplements without fillers! Some research may have to be done, but it is worth being healthy.
Solutions4 offers a great tasting shake, with a natural sweetener, that is packed with vitamins and mineral, and also tastes great!