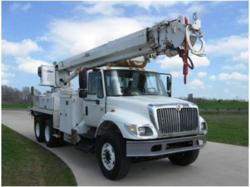 40-50% Savings
Colona, IL (PRWEB) April 05, 2013
When purchasing a bucket truck, consumers are searching for reliability, safety, and a true longevity of their investment. Many turn to dealers selling new vehicles to ensure this quality, but I-80 Equipment offers savings of 40-50% off of the list prices of bucket trucks through their unique reconditioning process of used vehicles. In a time when economy is important to any industry, this incredible savings is hard to pass up.
The reconditioning process that every truck undergoes at I-80 Equipment ensures that every vehicle will perform to manufacturers' specifications. Consumers will receive a bucket truck that performs like-new and with upgrades to the equipment, some reconditions bring the trucks to better-than-new quality. I-80 Equipment believes that savings and quality should go hand-in-hand.
Safety is also an important feature on any vehicle. The safety of employees and operators is vital to any business. Through the rigorous seven step reconditioning process, every bucket truck receives a thorough inspection, with repair and replacement of any parts that are broken or need upgrading. Everything is addressed from bodywork to mechanics. Each bucket truck, digger derrick, boom truck and crane is inspected utilizing a 77-point mechanical inspection and a 177-point boom inspection. I-80 Equipment utilizes a 4-point alignment machine, cylinder machine and dielectric testing to ensure that every vehicle meets all Federal and DOT inspections.
All trucks are job ready and delivered on time for complete customer satisfaction. Trucks can be customized—a service not offered by the leading manufacturers—to accommodate specific applications or to match an existing fleet. When you combine the unique features offered by I-80 Equipment, along with the quality of their products and the incredible savings, any customer in the market for bucket trucks should explore the 40-50% savings they can receive at I-80 Equipment.
I-80 Equipment
120 Walnut Lane
Colona, IL 61241
(Toll-Free) 888.949.3701
(Local) 309.949.3701
(Fax) 309.949.3760
(Email) info(at)i80equipment(dot)com