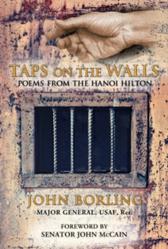 Washington, DC (PRWEB) April 08, 2013
Acclaimed author, decorated veteran and former Vietnam POW, Major General John Borling, USAF (Ret) will host a reading and book signing here on April 16 at 2:00 pm. Taps on the Walls: Poems from the Hanoi Hilton is a stirring compilation of the poems General Borling created during his six-year confinement at the infamous Hanoi Hilton.
How did a prisoner of war survive six years and eight months of soul-crushing imprisonment in the Hanoi Hilton during the Vietnam War? By writing poetry. And how did he do it without pencil or paper?
Then-Captain John Borling "wrote" and memorized poems to keep his mind sharp and spirits up. He shared his creations with fellow captives by their only means of communication—the forbidden POW tap code. Rapping on the cell walls with his knuckles, he tapped poems, certainly of pain and despair, but also of humor, encouragement, and hope, to keep everyone's strength and spirits alive.
Taps on the Walls is a remarkable and unique testament to the courage and resilience of the American spirit published concurrent with the 40th Anniversary of the release of the Hanoi Hilton inmates. Each piece is a resounding expression of freedom, originally committed to memory and shared with fellow prisoners only in code, a testament to one patriotic soldier's determination to keep his connection to country, family, and to his fellow servicemen.
On April 16, The Reserve Officers Association will host General Borling for an exclusive reading from his remarkable work. General Borling's remarks will be followed by a book signing with books available for purchase on site. Attendees are encouraged to RSVP online.