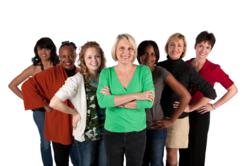 Remember only you can help save your vision, so make sure you have a yearly eye exam, be conscientious about eating healthy, protect your eyes from the sun with UV-blocking sunglasses and try to take supplements approved by a medical professional
Elmsford, NY (PRWEB) April 05, 2013
New York based Eye Care Associates enters its 14th year in business online as the operator of CleContactLenses.com, an online e-tailer that sells contact lenses, contact lens removers, contact solutions and other items that are eye care related. CLEContactLenses.com is supervised by a team of eye care professionals, Ophthalmologists, Optometrists, and Opticians to best service their patients' needs and questions.
Some may not be aware of this, but the month of April is Women's Eye Health & Safety Month. In an effort to education women about sight preservation, Prevent Blindness America (PBA) has again designated April has Women's Eye Health and Safety Month. According to PBA, women are more susceptible than men to vision impairment, comprising 2.6 of the 4.1 million Americans age 40 and older who are visually impaired or blind.
Earlier this week CLEContactLenses.com published a blog post informing its visitors and customers about how the month of April is Women's Eye Health & Safety month to help create more awareness so that all women can at a bare minimum have their eyes checked and if not be more cautious of bad habits they may have developed.
According to CLEContactLenses.com the best way for women to help protect their eyes is to have a comprehensive eye exam each year. By doing so, one could detect a vision problem and prevent, delay or even reverse its progression depending on the prognosis. The published blog post by CLEContactLenses.com provides much detail about prevention and steps women can take to help save their vision. Within the article, CLEContactLenses.com mentioned a recent study conducted by PBA, Vision Problems in the U.S., data showed that more women than men experience age-related macular degeneration, cataracts, glaucoma and diabetic retinopathy, which are the four most prevalent eye diseases in the U.S. Reasons for the gender discrepancy, according to the National Eye Institute, include longevity and hormonal factors.
To add to this, the FDA also recommends women using their eye cosmetics safely to help preserve their eye health. Such ways would entail washing hands before applying eye cosmetics, not sharing or swapping eye cosmetics, avoid moistening eye cosmetics, avoid applying or removing eye cosmetics in a moving vehicle, be cognizant of eye cosmetic ingredients, only use cosmetics intended for the eye, avoid using old eye cosmetics as well as storing them in areas where the temperature is above 85° F.
PJ from CLEContactLenses.com says "Remember only you can help save your vision, so make sure you have a yearly eye exam, be conscientious about eating healthy, protect your eyes from the sun with UV-blocking sunglasses and or headwear, and try to take supplements approved by a medical professional at least once a day."
Another way women can help protect their eyes is by quit smoking,avoid digital eye strain, practice the 20-20-20 rule exercise as well as educate themselves on any possible family history of eye disease.
The published article about Women's Eye Health & Safety month can be viewed here on CLEContactLenses.com Blog http://www.clecontactlenses.com/wordpress/news/april-is-womens-eye-health-and-safety-month/.
CleContactlenses.com is based out of Westchester County, NY and has offices in New York City and Mahwah NJ. CleContactlenses.com has been in business online for the last 15 years selling Acuvue contact lenses, contact lens removers, contact solutions, eye vitamins and all things eye care related.