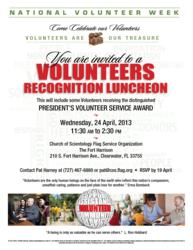 With the combined efforts of our members, as well as the members of the Tampa Bay community whom we work with, we can revitalize our society on both a local and global level
Clearwater, FL (PRWEB) April 08, 2013
Thirty Tampa Bay residents are scheduled to be honored for their philanthropic efforts in the community on Wednesday, April 24th, 11:30am-2:30pm, at the Volunteer Recognition Luncheon presented by the Church of Scientology. The luncheon is being held in observance of National Volunteer Week, an annual event meant to focus national attention on the impact and power of volunteerism, service and leadership. National Volunteer Week draws the support and endorsement of the President of the United States, as well as the Congress, governors, mayors and municipal leaders, and corporate and community groups across the country (1).
The Church will engage the Clearwater Community Volunteers (CCV) organization and acknowledge local residents who have committed themselves to improving the Tampa Bay community through philanthropy. The CCV is a non-profit organization dedicated to improving the lives of Tampa Bay families, and has been recognized by Bob Dillinger and Make-A-Wish for their many charitable contributions. The Church will be rewarding residents for abundant volunteer work in several areas, including:
●Drug education and rehabilitation
●Human rights
●Disaster relief
●Education
●Anti-violence
●Community improvement
The Church of Scientology is involved in a global effort to educate mankind about the benefits of charitable endeavors. Public Affairs Director for the Church of Scientology, Pat Harney, believes the Church can be an influential force in boosting humanitarian efforts in the Tampa Bay area.
"The Church is dedicated to leading by example and bringing about a steady sense of social responsibility," Harney commented. "With the combined efforts of our members, as well as the members of the Tampa Bay community whom we work with, we can revitalize our society on both a local and global level."
The luncheon is one of many events sponsored by the Church. Taking advantage of its growing corps of volunteers, the Church of Scientology is focusing on the improvement of local neighborhoods and the community of Tampa Bay. This includes sponsoring and supporting programs to help disadvantaged children, prevent drug abuse, improve literacy, and advocating human rights. Today, Scientologists on five continents work with government agencies and nongovernmental agencies to bring about broad-scale human rights awareness.
About the Church of Scientology:
The Scientology religion was founded by author and philosopher, L. Ron Hubbard. Mr. Hubbard wrote the Code of a Scientologist, calling on all members of the religion to dedicate themselves "to support[ing] true humanitarian endeavors in the fields of human rights." In doing so, he laid the groundwork for what has become a global movement of advocates for the human rights of all people, regardless of their social condition, ethnicity or religious affiliation. It is a maxim of Scientology that a being is as valuable as one is able to help others; Scientologists believe that truly doing well personally therefore requires that one's family, one's groups, Mankind itself, and all living things also survive well. The first Church of Scientology was formed in the United States in 1954 and has today expanded to more than 10,000 Churches, missions and affiliated groups with millions of members in 184 countries. Visit http://www.scientology.org for more information.
1."National Volunteer Week." Pointsoflight.org. Points of Light, n.d. Web. 29 Mar. 2013. pointsoflight.org/signature-events/national-volunteer-week.