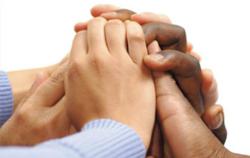 Paterson, NJ (PRWEB) April 08, 2013
The first New Jersey Recovery Community Center at Eva's Village (NJRCC-EV) was inaugurated at 16 Spring Street, Paterson over four years ago. The Recovery Center that is funded by the New Jersey State Division of Mental Health and Addiction Services (DMHAS) serves as a model program for a client-centered recovery-oriented system of care. The goal, to provide services to 300 unduplicated individuals per year, is exceeded each year with 1,165 unduplicated individuals accessing services at the NJRCC-EV in 2012.
Out of the 1,165 individuals who sought services, 669 (57%) requested pre-treatment recovery support services (i.e., trying to access treatment). Eighteen percent (123) of the 669, had Medicaid and easily accessed treatment services. The remaining 546 had no funding at all when they first entered the Recovery Center. The staff and Recovery Coaches at NJRCC-EV were able to help 423 (77%) of these individuals access treatment (i.e., Detox, residential and outpatient). Many of these individuals became eligible for Medicaid, and the remaining individuals accessed treatment services through County Funded, and other non-Medicaid funded residential beds and outpatient slots. "The staff and resources at the Recovery Center have assisted many members of the community to both find recovery support services and give back to assist others in need," states Michael Santillo, Administrative Director of Clinical Services at Eva's Village.
The NJRCC-EV is a resource for the community and it maintains a structured schedule of recovery related workshops, trainings, support groups, social events, recreational activities, wellness classes, telephone support, housing and employment assistance, and childcare services all of which are delivered on an on-going basis. The center is managed by individuals recovering from addictions who will use their direct experience to identify the problems and needs of those in recovery and find ways to address them.
Founded by Msgr. Vincent E. Puma in 1982 as a response to the poor and homeless in Paterson, New Jersey, Eva's Village (http://www.evasvillage.org) is a non-profit comprehensive social service organization with a mission to feed the hungry, shelter the homeless, treat the addicted and provide medical and dental care to the poor with respect for the human dignity of each individual. Eva's Village has grown from a simple soup kitchen to become the most respected anti-poverty program in the state of New Jersey and now includes fourteen integrated programs housed in numerous buildings spanning several city blocks in downtown Paterson.
To learn more about the Recovery Center, the addiction treatment programs at Eva's Village or to donate or volunteer, visit http://www.evasvillage.org.