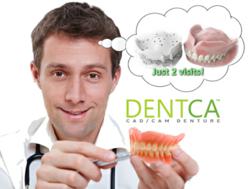 "...The future of denture production is rapidly embracing the world of 3D modeling and CAD/CAM procedures."
Los Angeles, CA (PRWEB) April 05, 2013
DENTCA, Inc., the worldwide leader in 3D denture design and production, is hosting the next generation CAD/CAM Denture Seminar at the Anaheim Hilton on April 12, 6:30 PM, during the CDA Annual Conference. The lecture titled "Shaping the Future of Dentures with 3D CAD/CAM Technology," will be presented by Dr. Tae Kim, Chair of the Removable Prosthodontics Department at the Ostrow School of Dentistry, University of Southern California.
Since the inception of 3D modeling and printing capabilities, dentists and prosthodontists have demanded denture procedures which digitize the impression for greater accuracy and efficiency. To address this need, DENTCA's CAD/CAM system was developed with over six years of research and development, and introduced to the market in January 2012. Over the past year, the entire field of denture-based dentistry has started shifting into the digital production era with early technology adopters leading the way. To help doctors understand the host of benefits and new capabilities CAD/CAM procedures provide for the doctor and patient, DENTCA is sponsoring this updated lecture and hands-on seminar for doctors and denturists to be held at the Anaheim Hilton, Catalina Room 6, in Anaheim, California, on Friday, April 12, 2013 at 6:30 PM.
"As the pioneer and leader in CAD/CAM denture production, DENTCA is hosting this seminar to help dentists discover how to take advantage of digitized denture modeling and design services -- which significantly reduces chairtime and eliminates human error from the entire denture delivery process," says Sun Kwon, CEO. "This ground-breaking seminar will be held at the Anaheim Hilton, which is less than a minute's walk from the Anaheim Convention Center. The seminar begins at 6:30 PM and Registration and Reception starts at 6:00PM in Catalina Room 6."
Doctors who attend this seminar will be presented with a 2-hour didactic course covering the theory behind conventional and digitally-enhanced denture procedures as well as participating in a 1-hour hands-on training session. Upon completion of the course, attendees will receive a certificate of completion and 3 CE Credits approved from the Academy of General Dentistry, PACE. Course fees can also be credited to the first denture order for all attendees.
Attendees can register online at: http://www.dentca.com/schedule.asp
As early adopters are paving the way for technology innovators, the future of denture production is rapidly embracing the world of 3D modeling and CAD/CAM procedures. With DENTCA's CAD/CAM Denture System, doctors require zero startup costs and less than one hour of total chairtime to deliver high quality dentures in just 2 patient visits. As a central part of the corporate mission, DENTCA constantly aims to help doctors stay ahead of the technology curve with seminars involving the latest advances in the digitized denture technology system.
About DENTCA:
DENTCA, Inc. (Los Angeles, California), the pioneer of CAD/CAM Denture Technology, produces high-quality dentures in just two visits through computer-aided design (CAD), computer-aided manufacturing (CAM), proprietary 3D modeling, and 3D printing technology. By introducing game-changing technology to dentistry, DENTCA received the Pride Institute's Best-of-Class Technology Award in 2012 -- the first denture company in history to receive this coveted award. DENTCA's patented tray system is designed to save significant time by enabling doctors to capture the impression, VD and CR in the same patient visit in less than one hour of chair time. With extensive patent protection, client relations, and dedication to R&D, DENTCA is committed to advancing modern dentistry with this state-of-the-art, revolutionary technology for years to come. DENTCA engages a dental prosthetics market which currently generates annual revenues of $2.36 Billion in the U.S. and $50 Billion worldwide.