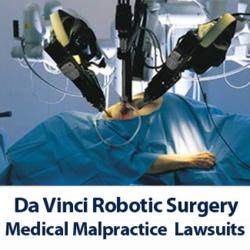 If you or a loved one has been injured by a da Vinci surgical robot contact Wright & Schulte LLC, a leading medical device injury law firm today at 1-888-365-2602 or visit www.yourlegalhelp.com
Columbus, OH (PRWEB) April 10, 2013
The Da Vinci robotic surgery lawyers at Wright & Schulte LLC, an experienced personal injury law firm representing victims of medical device injuries, report that a new study is raising more questions about possible complications associated with the Da Vinci Surgical System. According to the research, which appeared March 4th in the online version of the Journal of Urology, 1 in 15 patients who undergo robot-assisted prostatectomy, bladder or kidney surgery will develop nerve damage that can last months. The study, which was conducted by researchers at the University of Virginia School of Medicine, looked at 334 robot-assisted urology procedures done at their institution in 2010 and 2011, all of which utilized the Da Vinci Surgical System.
[jurology.com/article/S0022-5347%2813%2903461-7
/abstract]
Wright & Schulte LLC is now offering free Da Vinci robotic surgery lawsuit consultations to victims of alleged Da Vinci robotic surgery complications, including those who suffered:

Tears and/or burns of the intestines
Punctured blood vessels
Punctured and/or cut ureters
Severe bowel injuries
Vaginal cuff dehiscence
Excessive bleeding
Surgical burns
Sepsis
Peritonitis
Death
For more information on filing a Da Vinci robotic surgery lawsuit, or to arrange for a free legal consultation, please visit yourlegalhelp.com.
The nerve injuries detailed in the Journal of Urology study were all related to pressure from positioning on the operating table. Patients undergoing robot-assisted urology procedures are often positioned with their head by the floor and their feet in the air to give surgeons better traction, the research team said. Roughly 7% of the patients in the study woke from surgery with a positioning injury that included weakness, numbness or immobility in the hands or feet. While most resolved within a month, several patients experienced problems for more than six months. Longer procedures were the most likely to result in a nerve injury, according to the study.
Intuitive Surgical's Da Vinci Surgical System is widely used in hysterectomies, prostate removals, heart surgeries, gallbladder removals and bariatric surgery. Proponents of the robot claim it offers patients less bleeding and scarring, as well as shorter recovery times compared to traditional procedures. But according to a recent Bloomberg.com report, at least 10 Da Vinci robot lawsuits have been filed in recent months that allege serious complications, including organ damage, surgical burns, and punctured blood vessels in Da Vinci procedures. In January, the U.S. Food & Drug Administration (FDA) launched a probe of the Da Vinci robot to determine if an increase in adverse events related to such procedures is a reflection of a real and growing problem.
[bloomberg.com/news/2013-03-21/intuitive-robosurgery-training-seen-lacking-in-lawsuits.html]
About Wright & Schulte LLC
Wright & Schulte LLC, an experienced personal injury firm, is dedicated to the belief that America's legal system should work for the people. Every day, the attorneys of Wright Schulte LLC stand up for the rights of people who have been injured or wronged, and fight tirelessly to ensure that even the world's most powerful corporations take responsibility for their actions. If you're looking for a law firm that will guarantee the aggressive and personal representation you deserve, please do not hesitate to contact Wright & Schulte LLC today. Free Da Vinci robotic surgery complications lawsuit case evaluations are available through yourlegalhelp.com, or call 1-800-399-0795.
Contact:
Wright Schulte LLC
812 East National Road
Vandalia, Ohio 45377
1-800-399-0795