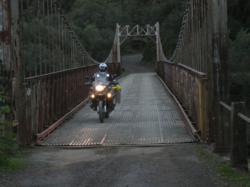 It's great to see shops like this thinking outside of the box
Eagle, CO (PRWEB) April 09, 2013
BMW Motorcycles of Long Beach and Butler Motorcycle Maps join hands to get riders to the best roads. Every bike purchased at this popular motorcycle dealership now comes with a free motorcycle map, something customers agree is slightly more useful than a free key chain or t-shirt.
"It's great to see shops like this thinking outside of the box. When times are tough it's easy to tighten your belt and ignore the small things that make loyal customers. We are pleased that BMW of Long Beach is utilizing our maps to get their customers on the road," says Court Butler of Butler Maps.
Gestures like giving away a free map help riders dream about taking their new machines to exciting places. People who purchase motorcycles are looking to explore. They are looking for roads with drama and excitement. Normal road maps don't explain that sort of thing but Butler Maps do. And after all, the more a customer rides the more service and parts that customer will require. Making a simple gesture like a map is a long term business strategy.
Butler Maps are printed waterproof maps built specifically for motorcycle travelers. They highlight the best roads and rank them based on their drama and excitement from a motorcyclist's perspective. They also use QR codes to link riders to recommendations on places to eat, sleep and explore. More information can be found at http://www.butlermaps.com or by contacting info@butlermaps.com.