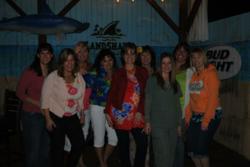 I'm helping to raise money to find a cure for all cancers, so we won't have to lose precious family and friends to this horrible disease anymore
Tampa Bay, FL (PRWEB) April 08, 2013
Cancer has a way of sneaking up on you and changing your entire world within a breath. Pina Sherwin understands this better than most—after losing her father at age 14 to the disease, Sherwin's life changed from that point on. Now, having survived thyroid cancer herself, Sherwin looks at cancer with new eyes and is dedicated to finding a cure to this devastating disease. Sherwin has banded together with fellow survivors and friends to form Team "Palm Harbor Pelicans," as part of Relay For Life of Palm Harbor, to be held April 12 at Palm Harbor University High School.
More people die from cancer than from AIDS, malaria and tuberculosis combined, and the World Health Organization estimates that without immediate action, the global number of deaths from cancer will increase by nearly 80% by 2030 (1). Relay For Life is an act of global activism meant to celebrate cancer survivors and honor loved ones lost, while also raising money to help find a cure for the disease. After losing many loved ones to the disease, Sherwin has made it her mission to do her part in funding research for a cure.
"Too many people [close to me] have died from cancer," said Sherwin. "I've lost my father, an aunt, a sister-in law who was only 32, and a dear friend a couple of years ago. Several of my friends have also lost family and friends way too early. I'm helping to raise money to find a cure for all cancers, so we won't have to lose precious family and friends to this horrible disease anymore."
The Palm Harbor Pelicans first attended Relay For Life in 2010, and are now in their third year of participation. The Palm Harbor Pelicans have organized many pre-event fundraisers, including the Annual Thirsty Marlin Fundraiser—which raised over $2,000—and a Chick-fil-A fundraiser, wherein 20% of food sales will be donated to the team.
Another part of the team's fundraising efforts will come from onsite raffles; they will be selling raffle tickets for restaurant gift certificates, movies tickets, mini-golf, Vera Bradley bags, and baskets full of goodies. The team will also hold a "Parrothead Pastries" bakery booth at the event, where they will sell a variety of baked goods, fruit and non-alcoholic drinks.
The Palm Harbor Pelicans have reached their $5,000 goal in each of the past two years, and are hoping to greatly surpass that amount this year.
Relay For Life is a global awareness event started by the American Cancer Society to bring recognition to the impact of cancer and raise funds to find a cure for the disease. Participants form teams, camp out overnight, and take turns doing laps around a track to raise donations. Because cancer never sleeps, Relay events last up to 24 hours, and each team is required to have at least one member on the track at all times.
Relay For Life of Palm Harbor currently has 26 teams and 218 participants, and has raised over $38,000. The number of participants is expected to grow even more in upcoming weeks.
To find out more information about Relay For Life Palm Harbor, FL, visit http://www.relayforlife.org/palmharborfl.
To join or donate to the Team Palm Harbor Chamber of Commerce, visit relay.acsevents.org/site/TR?fr_id=50032&pg=teamlist.
About Relay For Life:
Relay For Life is the American Cancer Society's signature volunteer-driven fundraising event. Relay For Life began in 1985, when colorectal surgeon Dr. Gordon Klatt decided to raise money for the American Cancer Society in honor of his patients by walking around a track over a 24 hour period. Today, Relay For Life events are held in more than 5,000 communities spanning 21 countries, and have raised an estimated $3 billion+. All proceeds go to funding cancer research, with the aim of eradicating the disease. In addition to fundraising, the event raises awareness of the disease and furthers the American Cancer Society's efforts to save lives by helping people stay well, helping them get well, finding cures, and fighting back. More information on Relay For Life is available at http://www.relayforlife.org.
About the American Cancer Society:
The American Cancer Society is a nationwide, community-based, volunteer health organization dedicated to eliminating cancer as a major health problem by preventing cancer, saving lives, and diminishing suffering from cancer through research, education and advocacy. The American Cancer Society is the nation's largest non-governmental investor in cancer research, contributing about $3.4 billion to date. Thanks to their efforts, more than 11 million people in America who have had cancer will be celebrating their next birthday. To learn more about the American Cancer Society, visit http://www.cancer.org.
1. "World Cancer Day." Cdc.gov. Centers for Disease Control and Prevention, 04 Feb. 2013. Web. 26 Mar. 2013. cdc.gov/features/worldcancerday/.