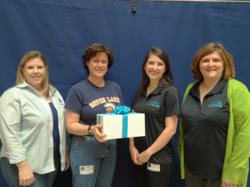 x2VOL has brought volunteering to the teens who are so in tune with technology. They really do know they are contributing to the community.
Katy, TEXAS (PRWEB) April 06, 2013
Because every hour counts, two local Katy citizens were given honorary hourglasses today by intelliVOL, makers of x2VOL. Assistant Principal Romulo "Rom" Crespo from Morton Ranch High School and Jeanmarie Mayfield who volunteers at Seven Lakes High School, were recognized with a special award for their efforts to develop community service programs at their respective schools.
Mr. Crespo received the x2VOL Community Engagement Award for his efforts to connect local non-profit organizations with student volunteers. Since August 2012, over 90 organizations have connected with students through x2VOL's community service management system where students can easily locate volunteering opportunities in a coordinated manner.
"Mr. Crespo encourages every nonprofit organization to use x2VOL to reach out to student volunteers. He is a great champion of community service in Katy," said Michele Pitman, CEO of intelliVOL. "Through his efforts, there is a long and diverse list of community service opportunities for students."
When asked about the importance of community service at Morton Ranch High School, Mr. Crespo replied, "At Morton Ranch we strive to ensure that our students are positive contributors to society by following the portrait of a Katy ISD Graduate, where we instill certain knowledge and traits into every student so that when they graduate, they will enter society as well educated, good citizens. One way to accomplish this is to highlight the importance of giving back to the community."
Jeanmarie Mayfield is a parent of two Seven Lakes High School students, a graduate and a senior. Ms. Mayfield received the x2VOL Student Volunteer Engagement Award for her role as the membership coordinator for Spartans Out Serving. This optional club has over 1,600 active student members and will generate over 35,000 hours of community service each year.
Ms. Mayfield manages the SpartansOutServing.com website, approves hours, and notifies students of the volunteer opportunities in their community. Because of her efforts, membership and participation has soared and there is a clear and well-coordinated outreach and community plan between the students, teachers and non-profit organizations.
"Jeanmarie is instrumental in making Spartans Out Serving a dynamic and active club," said Michele Pitman. "Her efforts alleviate the burden for teachers and greatly enhance the success of Spartans Out Serving. She also mentors the students and gets them excited about service. With her enthusiasm, participation continues to grow."
When asked about the educational value of community service, Ms. Mayfield replied, "[The students] learn that they have talents that can be used while serving. They experience how much work goes into setting up a classroom for back-to-school night or how taxing it is to keep up with kids at a carnival. x2VOL has brought volunteering to the teens who are so in tune with technology. They really do know they are contributing to the community."
x2VOL manages, logs, tracks, and provides reports on community service hours given by high school students. With x2VOL, students can schedule their hours, secure administrator approval and track their hours for school requirements, scholarship applications and college admissions. x2VOL is an online system available anywhere, anytime. There is also an app for the iPhone® and for Android™ devices.
Read more about community service with x2VOL at local high schools.
About intelliVOL
x2VOL from intelliVOL is used by public and private schools and districts nationwide to track student hours given to non-profit organizations. x2VOL is an award-winning, web-based tracking and reporting platform that is safe, secure, and powerful. Schools throughout the country use x2VOL to ease the paperwork burden for tracking volunteer hours students give to non-profit organizations in their community. Learn more at intelliVOL.com or email info@intelliVOL.com.
iPhone® is a registered trademark of Apple Inc.
Android™ is a registered trademark of Google Inc.
Additional photos and interviews with recipients available upon request.
###