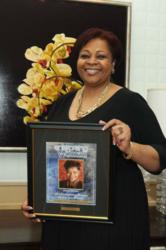 Atlanta, GA (PRWEB) April 30, 2013
Financial Voyages LLC (http://www.teamfv.com), a Workforce Learning and Development Services Firm, has announced that Pamela Robinson, CEO, has received the Enterprising Women of the Year award for 2013 from Enterprising Women magazine. This award honors women business owners who have demonstrated that they have fast-growth businesses, mentor or actively support other women and girls involved in entrepreneurship, and stand out as leaders in their communities. Winners were recognized at the 11th Annual Enterprising Women of the Year Awards Celebration on April 3 and 4 at the Ritz-Carlton in Fort Lauderdale, Florida.
"The Enterprising Women of the Year Class of 2013 is a remarkable group of women leaders," said Smiley. "This annual celebration is unlike any other event as it honors each award recipient and brings together the finest women entrepreneurs from around the world to network, share best practices and celebrate their amazing achievements."
"Receiving the Enterprising Women of the Year award is a great honor," said Robinson. "This award represents the economic growth potential and social impact women-owned firms bring to their communities."
ABOUT ENTERPRISING WOMEN MAGAZINE:
Enterprising Women, with headquarters in Cary, N.C., is the nation's only women-owned magazine published exclusively for women business owners that chronicles the growing political, economic and social influence and power of entrepreneurial women. The magazine provides a friendly meeting place, a public forum and a national stage for the critical issues confronting women's businesses and daily lives from the unique perspectives and experiences of entrepreneurial women. Published in both print and digital editions, the online edition of the magazine reaches nearly one million readers in 185 countries. For more information, please visit http://www.enterprisingwomen.com or call 919-362-1551.
ABOUT FINANCIAL VOYAGES LLC:
Financial Voyages LLC provides business management, financial and specialized certification training, consulting and program support services to international organizations and government agencies. The firm partners with customers to develop highly-skilled and productive professionals, managers and executives. Financial Voyages LLC is distinguished by delivering actionable practices for workforce development that support positive economic and social impact in the communities served by their customers. For more information, please visit http://www.teamfv.com or call 770-379-0950.