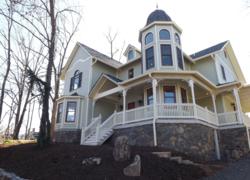 Historic Asheville, NC neighborhood welcomes a new Queen Anne Victorian style home.
Asheville, NC (PRWEB) April 05, 2013
HomeSource Builders is pleased to announce the finishing of a Queen Ann Victorian style home in the heart of the historic Asheville neighborhood of Montford. Working closely with the historic district, HomeSource was able to preserve the historic brick sidewalk that occupies the area along with meeting all building regulations.
The Energy Star certified home is complete with 3 bedrooms, 3.5 baths, indoor and out door fireplace, cherry cabinets, 3 inch oak flooring with mahogany inlays, solar hot water heater, and gorgeous brazilian hardwood wrap around front porch. The exterior design includes simple elegant features such as natural stone, a screened in porch, copper spike on the turret, and a porte-cochère.
The Montford Neighborhood consists of about three hundred acres and retains more than six hundred structures representing a rich diversity of architectural styles, most constructed between 1890 and 1920 during Asheville's emergence as the greatest city of the Southern Appalachians. Today the Montford community is home to several businesses and the restoration of the neighborhood has lead to the establishment of quite a few Bed and Breakfasts.
To see photos of the finished home, visit http://www.homesourcebuilders.com.
About HomeSource Builders:
Custom home builder and remodeling contractor that is fully licensed and insured, providing you expertise and commitment in home construction. Located at 172 Charlotte Street in Asheville, NC.