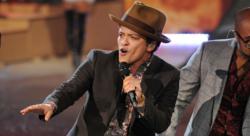 San Francisco, CA (PRWEB) April 05, 2013
Leading San Francisco ticket broker, Top Notch Seats, is excited to announce Bruno Mars concert tickets are now on sale. The Moonshine Jungle Tour kicks off on June 22 in Washington, D.C. and continues through September 1 in San Juan, Puerto Rico before heading overseas. Top Notch Seats is proud to offer Bruno Mars concert tickets to all shows coming this summer.
The Moonshine Jungle Tour will take the singer-songwriter through the United States and Canada. The award-winning Bruno Mars regularly enjoys performing to sold-out crowds. This summer's tour will be no different. In fact, many of the venues are already sold out through the official channels. Fans seeking Bruno Mars tickets should consider Top Notch Seats as their first stop to purchase tickets to any of these shows. Top Notch Seats can offer excellent views to those who purchase quickly.
The Bruno Mars concert will take the accomplished performer to many exciting venues. The HP Pavilion in San Jose on July 25 is one of the top spots for concerts. Currently sold out through other ticket sellers, Top Notch Seats has a wide selection of tickets for those who live in or plan to travel to the San Francisco Bay area. Mars will also be performing in such renowned venues as the Staples Center in Los Angeles on July 27 and 28, the MGM Grand in Las Vegas on August 3, and the Scottrade Center in St. Louis on August 8.
Top Notch Seats has been a highly respected ticket reseller since its inception in 1993. A member of the Better Business Bureau, Top Notch Seats is one of the top trusted sources for concert tickets in the San Francisco Bay Area and beyond.
Peter Gene Hernandez was born and raised in Honolulu, Hawaii. His musician father nicknamed him Bruno, which later became part of his stage name. Mars moved to Los Angeles after high school where he began his musical career in earnest, first signing with Motown records, and then Atlantic. Mars has been nominated for dozens of prestigious awards. He currently has captured an American Music Award, a Billboard Music Award, and a Grammy for Best Male Pop Vocal Performance, among many others.
For more information about Shoreline concert tickets, visit http://www.topnotchseats.com.
About Top Notch Seats
Operating from the heart of Silicon Valley since 1993, Top Notch Seats is an online leader in secure ticket sales. TNS supplies audiences with quality seating and tickets to all major concerts, theatre and sports events in the Bay Area and around the nation.
Top Notch Seats specializes in providing Bay Area concert tickets with a wide variety of seating options, which enables customers to choose their favorite vantage point. TNS is a licensed Bay Area ticket broker engaged in the business of buying and selling first-rate tickets. They do not sell tickets at face value; ticket prices are often well above face value and reflect the cost of obtaining quality seating.