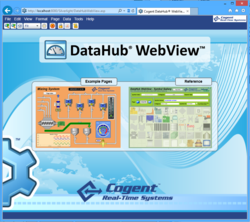 This is a significant leap forward because it enables solutions that are no longer limited to the defined behavior of available controls.
Georgetown, Ontario (PRWEB) April 16, 2013
Cogent Real-Time Systems announces the release of DataHub® WebView™ version 1.4, a Silverlight® application that allows users to build web-based HMI solutions for real-time data visualization and control. This new version of DataHub WebView includes a sophisticated scripting language that supports animations, dynamic data point bindings, event handlers, and the display of tabular data and charts using data from any ODBC-compliant database.
"This release marks a turning point in the development of DataHub WebView," said Andrew Thomas, President of Cogent Real-Time Systems. "One of the challenges in developing a web-based HMI is how to combine both real-time data streams and information derived from a database query. This new release does this effectively, in a way that is easily accessible to our users."
"DataHub WebView can now take full advantage of its .NET foundation, as the scripting language exposes and extends the behavior of DataHub WebView applications and supports programmatic interaction with native .NET objects, types and assemblies," said Ken Collins, Architect of DataHub WebView. "This is a significant leap forward because it enables solutions that are no longer limited to the defined behavior of available controls."
DataHub WebView's tight integration with the Cogent DataHub provides quick, reliable, and secure access to valuable information direct from industrial processes, embedded equipment, or financial data feeds. In addition to scripting, other new features in version 1.4 include:

Controls now support dynamic point bindings and page templates, allowing users viewing a page to specify and change data sources with the click of a mouse.
A variety of animation features, such as fades, expandable panels and controls, and motion, size and color changes based on mouse clicks and rollovers.
Full integration with the Cogent DataHub's Database Query feature gives access to data from any ODBC-compliant database, which can be displayed in dynamic charts and tables.
"Our customers can now easily integrate real-time process data with ODBC database content to build management information portals and decision support dashboards," said Mr. Collins. "And by combining user selectable data sources with dynamic point bindings, we're starting to see a whole new suite of template-style pages that deliver enterprise-scale solutions."
DataHub WebView is a state-of-the-art, rich internet application for delivering real-time data displays in a standard web browser. For existing SCADA systems it is the perfect addition, providing desktop quality graphics and real-time updates of process data in a web browser from anywhere in the world. For new projects, DataHub WebView delivers a self-contained system that includes real-time data delivery, web server and browser-based screen development, all in one easy to install application.
Cogent Real-Time Systems Inc. is a wholly-owned subsidiary of Skkynet Cloud Systems, Inc. ("Skkynet") (OTC.BB:SKKY). Founded in 1995, Cogent provides proven middleware products to enable real-time data integration and distribution for industrial, embedded, and financial systems. Customers include Siemens, ABB, Honeywell, IBM, GE, Statoil, Goodyear, BASF, Cadbury Chocolate, and the Bank of Canada.
Skkynet Cloud Systems, Inc. is a leading developer of software and related systems and facilities for collecting, processing and distributing real-time information over networks. This capability allows clients to both locally and remotely manage, supervise and control industrial processes, financial information systems, and embedded devices. Through Cogent's web-based assets, DataHub® WebView™ enables data connectivity and visualization over the cloud, providing clients and their customers the necessary ability and tools to observe and interact with these processes and services in real time, empowering them to fully control their systems and analyze their data.
DataHub® and WebView™ are either registered trademarks or trademarks used under license by Cogent Real-Time Systems Inc. Silverlight® is a registered trademark of Microsoft Corporation. Other products and company names mentioned herein may be trademarks and/or service marks of their respective owners.
Safe Harbor Statement: This news release contains "forward-looking statements" as that term is defined in Section 27A of the United States Securities Act of 1933, as amended and Section 21E of the Securities Exchange Act of 1934, as amended. These forward-looking statements generally can be identified by phrases such as Skkynet Cloud System, Inc. or its management "believes," "expects," "anticipates," "foresees," "forecasts," "estimates" or other words or phrases of similar import. Similarly, statements herein that describe the Company's business strategy, outlook, objectives, plans, intentions or goals also are forward-looking statements. All such forward-looking statements are subject to certain risks and uncertainties that could cause actual results to differ materially from those in forward-looking statements.