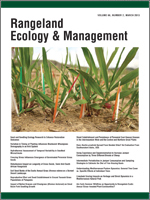 Lawrence, Kansas (PRWEB) April 08, 2013
More than $100 million a year are spent globally by countries seeking to restore rangeland ecosystems. Rangelands provide for half the world's livestock, store about half of the global terrestrial carbon, and support nearly one-third of the world's population. Sustaining rangelands is key to maintaining the critical functions of global ecosystems.
A special feature in the journal Rangeland Ecology & Management discusses seed and seedling ecology and its role in sustaining rangelands. Research published in this issue asserts that increased understanding of the processes that influence seed production is a tool needed to prevent rangeland degradation and to repair previously degraded systems.
It is estimated that 10 to 20 percent of worldwide rangelands are now degraded, and that 12 million more hectares are degraded each year. Rangeland restoration can lead to ecosystem sustainability and, in turn, can affect economic and political stability. However, current rangeland policies and practices are falling short of needs and expectations.
There is a need not only to understand, but also to predict and manage transitions among plant communities. Establishment of both desired and undesired plant species influences the health of rangelands. Processes that include seed production, seed bank carryover, seedling establishment, and seedling persistence are essential to rangeland management.
However, the advances in knowledge of seed and seedling ecology over the past several decades have yet to be translated to rangeland restoration. To be successful, rangeland science and rangeland management need to be more closely linked. The knowledge gained through research can be applied by developing conceptual models and using them to guide decision making about management and restoration. Fostering research and management partnerships will be needed to face the challenges confronting the world's rangelands.
Full text of the article, "Seed and Seedling Ecology Research to Enhance Restoration Outcomes" and other articles in this special issue of Rangeland Ecology & Management, Vol. 66, No. 2, 2013, is now available.