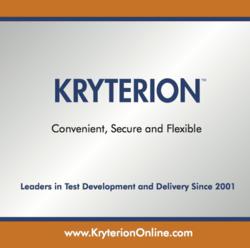 (PRWEB) April 09, 2013
Kryterion Incorporated will present results of the first online proctoring independent third-party compliancy audit of the Family Educational Rights and Privacy Act (FERPA). The presentation will take place Tuesday April 16, 2013 at the American Association of Collegiate Registrars (AACRAO) 99th Annual Meeting in San Francisco, Calif.
The audit conducted by AACRAO's LeRoy Rooker determined that Kryterion's online proctoring operations were FERPA compliant. Kryterion is the first online proctoring company to commission such an audit.
Kryterion's initial research uncovered industry misnomers and multiple interpretations of the FERPA legislation. In an effort to maintain the highest industry standards and best practices, Kryterion sought out an independent third-party evaluation and consultation of the organization's practices.
"As online learning gains traction we need to ensure the integrity of our technology," said Kryterion's Director of Distance Education and Engineering Andrew Caldwell. "FERPA compliancy is absolutely critical to a higher education institution."
The mass adoption of online learning has generated high-demand for education technology tools that can maintain academic integrity digital learning. This in turn generates a demand for best practices and standards.
Kryterion was the first to bring online proctoring to the global market and was awarded the United States Distance Learning Association Award for 21st Century Distance Learning. The organization continues to develop cutting-edge technologies for test development and delivery.
About Kryterion
Kryterion is a full-service test development providing world-class secure testing solutions. Kryterion serves the association, technology and distance education markets. Our solutions include: online proctoring, authentication, exam management, security, real-time test delivery and development, psychometric services and professional services.
Follow Kryterion, Inc on Twitter @kryterion
Find Kryterion, Inc. on Facebook at https://facebook.com/kryterion