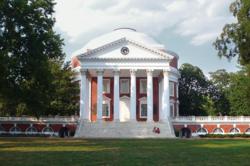 The program not only gave me the chance to learn about our country's history, but also to live it by visiting historical landmarks ... I can say that I'm now better prepared for the AP exam in May.

-Kevin, 2012 AP US History Program Graduate
Charlottesville, VA (PRWEB) April 08, 2013
The Junior State of America (JSA) announced today that the deadline to apply for their summer program at the University of Virginia has been extended to May 3rd. At this program, high school students will have the opportunity to learn about United States history at the university founded by Thomas Jefferson. The AP U.S. History course that the student will take during this intensive 5-week program is equivalent to a full two-semester course and will prepare students to take the Advanced Placement examination in U.S. History administered in May by the College Board.
More than just studying and reading about history, the JSA Summer School at the University of Virginia will allow students to discover the sites where history took place. Part of the academic coursework will include off campus trips to Thomas Jefferson's Monticello, James Madison's Montpelier and historic sites in Washington D.C. These trips will create an interactive learning environment that supplements and enhances classroom lectures, discussions, reading and historical debates.
Jeff Harris, CEO of The Junior Statesmen Foundation, articulated the importance of understanding history to the development of an active engaged citizenry. "We added U.S. History to our JSA summer program offerings because the course fits perfectly with our mission of preparing young people to be engaged, informed civic participants. An in-depth understanding of the evolution of America – our struggles, our heroes, our trials and our conquests – is foundational to the critical analysis of the civic challenges and policy questions that will face the political leaders of today and tomorrow." Harris also noted that JSA, for nearly 80 years, has been one of the country's leading organizations in preparing high achieving high school students for a lifetime of leadership, success, and civic responsibility. "Our AP U.S. History course at UVA is now a part of that legacy."
While the JSA Summer School has offered AP U.S. History in prior years at Princeton University, this year, the course has been extended to 5-weeks to allow faculty more time to delve into the course material and more time for students to digest the information and concepts. The program has always given students the knowledge and skills needed for taking the AP test. 2012 JSA Summer School graduate Kevin Covarubias says that the program "not only gave me the chance to learn about our country's history, but also to live it by visiting historical landmarks ... I can say that I am now better prepared for the AP exam in May."
Applications will be accepted from high school students currently in grades 9 – 11 until May 3. For more information about the program, or to start an application, visit http://www.jsa.org/summer
JSA Summer School at the University of Virginia – Charlottesville, VA – June 29 to Aug. 3, 2013
Junior State of America (JSA): Providing civics education and leadership programs for over 70 years, non-partisan JSA summer programs have provided an unparalleled training ground for the students who will be the civic leaders of their generation. The JSA programs are supported by the Junior Statesmen Foundation Inc., a 501(c)(3) tax-exempt educational corporation, which provides guidance to JSA's student leaders. It has offices in San Mateo, Calif., and Washington, D.C. More information is available at http://www.jsa.org/ or jsa(at)jsa(dot)org.
###