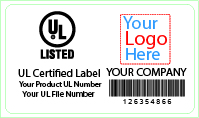 "We are now looking for new customers who have obtained or are seeking UL recognition for their products"
Benton City, WA (PRWEB) April 08, 2013
Now customers can create a UL label online. Rippedsheets.com offers custom full color digital printed UL labels on its design online website.
Stephen Hall, President, says, "Rippedsheets.com custom digital printed labels are now part of the Underwriters Laboratory (UL) authorized label suppliers program and prints UL labels in full color."
Full color digital printed UL labels can be created online from the Rippedsheets.com design online website.
The proprietary digital printing process is the first of its kind to be approved for outdoor UL labels. Full color digital inks are direct printed on durable plastic substrates, and are UL approved for a wide range of substrates including polyester, powder coatings, both indoors and outdoors.
Rippedsheets labels are UL 969 approved under file number PGAA.LP4170 and PGDQ2.HM45001.
"Rippedsheets.com's sales force is looking for new customers who have obtained or are seeking to obtain UL recognition for new products," said Stephen Hall, President. "Rippedsheets.com can digitally print the UL mark for medical devices, durable or consumer product or electrical device. Any Mark can be printed, whether a UL Listed Mark, UL Classification Mark or other UL Mark.
Being able to create a UL label online will cut the turnaround time to hours. In this process, the customer or Rippedsheets.com can get UL approval for the labels from UL in as little as 24 hours, if the labels have not already received the 'A' Order Form Approval," Hall said.
The online design online system is amazing. Labels can be personalized 24 hours a day, from any time zone in the United States or Canada to meet UL label requirements." First, choose an L or R Type UL label. Second, pick a size, and then customize it. Personalizing UL label is easy by selecting a UL Mark, typing in text, and then having the option to upload a logo. The personalized label design refreshes immediately and then check out."
Save $250 on personalized UL labels until May 5, 2013. Use the Discount Code ULNOW.
If the shape or size UL label needed is not there, then please contact Rippedsheets.com. For more information or for answers to any questions, Please call 1-888-791-9590 or e-mail sales07(at)rippedsheets(dot)com.