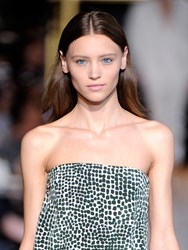 I began using the Dr. Brandt cleanser with my Clarisonic and got baby soft skin in less than a week.
Miami, FL (PRWEB) April 20, 2013
Exfoliating is crucial in creating a flawless foundation. The beauty consultants at TheBeautyPlace.com recommend the best-selling skin cleansing system, Clarisonic Skin Cleansing System, for gently scrubbing away dead skin cells that can make skin look dull. The facial skin brush cleanses skin 6x better than using hands alone. Rebecca, lead beauty consultant, at TheBeautyPlace.com uses her Clarisonic with Dr. Brandt Pores No More Vacuum Cleaner. "My skin was very oily and it used to suffer from enlarged pores. I began using the Dr. Brandt cleanser with my Clarisonic and got incredible results in less than a week. I recommend it to all my clients!" exclaimed Rebecca.
After cleansing, application of a Skin Perfecting Primer with a Dewy Finish will help achieve a radiant glow. The primer contains light-enhancing minerals and its subtle tint evens out skin tone and texture. It also balances out oil production, making skin look fresh, not slick. Follow with TIGI Cosmetics Whipped Foundation (formerly known as Dream Foundation), which is oil-free and helps restore the look of suppleness to skin with antioxidants and vitamins A, C, and B5. Next, TIGI Cosmetics Glow Blush – Lovely goes on sheer and gives cheeks a natural glow.
To finish the look, TIGI Cosmetics Precision Eyeliner in Peacock will accentuate eyes. The turquoise shade was seen in Stella McCartney's Spring 2013 runway show. The models walked the runway the bright shade on the bottom inner rims and with black liner on upper lashes and swiped a few coats of mascara. Next, apply a nude lipstick shade like TIGI Cosmetics Decadent Lipstick in Faith. The lipstick formerly known as Bed Head Girls Just Want It Lipstick is customer reviewed as "luxurious" and "moisturizing".
TheBeautyPlace.com is an online store of leading salon brands at affordable prices. From skin care to hair care and everything beauty, TheBeautyPlace.com strives to offer clients and prospective clients excellent customer service and fast shipping of beauty products right to their door.
Follow and Like TheBeautyPlace.com:
On Pinterest: pinterest.com/thebeautyplace/
On Twitter: @TheBeautyPlace
On Facebook: Facebook.com/pages/TheBeautyPlacecom/125435188536?ref=ts
TheBeautyPlace.com Blog: blog.thebeautyplace.com
Jennifer Ramirez
TheBeautyPlace.com
1-877-990-1112
###