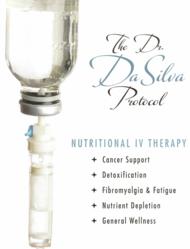 Dr. Burton Goldberg, renowned author in alternative cancer therapies, described the workshop as "vital and informative and something every doctor could utilize to become more efficient in the regeneration of the body
Sarasota, Florida (PRWEB) April 06, 2013
Guy DaSilva, MD, ABAARM, will be giving a pre-conference workshop on IV nutrition at the 21st Annual World Congress in Anti-Aging and Regenerative Medicine hosted by the American Academy of Anti-Aging Medicine (A4M) on April 11, 2013 in Orlando, Florida.
DaSilva's workshop, "The Nuts and Bolts of Traditional IV Therapy," will teach attendees how to integrate and market IV therapies while acquiring specific protocols for chelation, nutrient depletion, fatigue, and other conditions. This will be DaSilva's third presentation of his IV nutrition workshop, which is growing in popularity since its introduction last year.
2012 attendee Dr. Burton Goldberg, an expert in alternative medicine and renowned author in alternative cancer therapies, described the workshop as "vital and informative and something every doctor could utilize to become more efficient in the regeneration of the body by feeding the body what the body is screaming for."
2012 attendee Vernon Williams, MD said, "The IV nutrition seminar was very helpful. It provided in-depth information on IV nutrition. We were able to incorporate it into our wellness/age management practice. The patients are very appreciative and have been getting us referrals. My office manager will be attending the seminar in Orlando."
Registration Information
Full details on the event, including registration, are available at http://www.a4m.com or by calling 888-997-0112.
About Guy DaSilva, MD, ABAARM
Dr. Guy DaSilva is the founder and medical director of the DaSilva Institute of Anti-Aging, Regenerative & Functional Medicine in Sarasota, Florida, specializing in therapies that naturally reverse disease, restore optimal health, and prevent the destructive process of aging, including nutritional IV therapies that treat a vast array of medical conditions. He is a respected authority in hematology, pathology, internal medicine, and molecular oncology. He is considered an expert in the field of IV nutrition, and has been asked to speak around the country on this topic.
Contact: Dr. Guy DaSilva
Phone: (941) 388-0940 / (888) 832-7458
E-mail: info(at)dasilvainstitute(dot)com
Website: http://www.dasilvainstitute.com
Office address: 7313 Professional Pkwy E, Sarasota, FL 34240
###