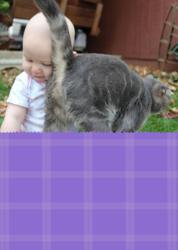 Kansas City, MO (PRWEB) April 08, 2013
Hallmark today announces the winners in its recent card-creation contest, "Kids & Critters". Greeting card hopefuls were invited to use original photography and writing to create fun, sweet, or silly "Birthday" and "Just for Fun" greeting cards that combine two of the cutest things on earth – kids and pets.
Contestants submitted their creations in February. The 12 winning designs will be sold on Hallmark.com starting today. In-store winners will be announced and featured in Hallmark Gold Crown stores in July. Winners each receive $250 and could win an additional $250 if their cards are chosen for in-store sales.
Hallmark judges looked for cards with photography and writing that worked well together and could be sent to all types of people. Participants could enter a total of two cards. Entrants were encouraged to check out the Hallmark Contest Facebook page for tips on this contest.
This is Hallmark's 41st consumer-created card contest. The 12 winners are from 11 different U.S. states. Here are the winners in Hallmark's "Kids & Critters" competition:
Jessica Cockrum
Dayton, Ohio
Hannah Dagg
West Bloomfield, Mich.
Kendra Dartez
Aylett, Va.
Rebecca Farrell
Newark, Del.
Michelle Hemphill
Willard, Mo.
Jenny Hogan
Chicago, Ill.
April Hornemann
Mankato, Minn.
Norris Ingbretson
Lombard, Ill.
Debbie Lindner
Melbourne, Fla.
Tracie Sledge
Hammond, La.
Mike Vivona
San Jose, Calif.
Dorann Weber
Browns Mills, N.J.
New Competition Now Open
Hallmark's latest competition, "Celebrate Him," will be accepting submissions April 1-21. Consumers are invited to create a sweet or funny birthday card that appeals to the guys. Photo and illustration will be accepted. For more information or to submit a design, visit Hallmarkcontests.com.
About Hallmark Cards, Inc.
Hallmark makes the world a more caring place by helping people express what's in their hearts and spend time together – a privilege few other companies in the world enjoy. Hallmark greeting cards and other products are found in more than 39,000 retail outlets in the United States, including the network of flagship Hallmark Gold Crown® stores. The brand also reaches people online at Hallmark.com and on television through Hallmark Hall of Fame original movies and cable's top-rated Hallmark Channel. Worldwide, Hallmark offers products in more than 30 languages available in 100 countries. This privately held company is based in Kansas City, Mo., and is led by the third generation of the founding Hall family. Visit http://corporate.hallmark.com for more details.