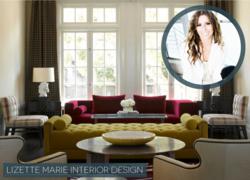 My philosophy is simple, to create custom spaces for my clients that are a reflection of the their best self
(PRWEB) April 08, 2013
San Francisco based interior designer Lizette Bruckstein of Lizette Marie Interior Design announces her participation in the Opening Gala of the Exploratorium at its new location on the Embarcadero at Pier 15. Lizette is one of a select group of Bay Area Interior Designers given the opportunity to design a reserved lounge seating area for ten called "The Lounge Act."
Polished Chaos: The juxtaposition of structure with randomness blended in a manner that creates provocative beauty out of the interplay of two perceived opposites. The lounge environment will be framed by a structure allowing the space to feel like a living room in a home. Bold geometric wallpaper will be balanced by an original Klari Reis sculpture: an antique apothecary rack holding dozens of apothecary bottles filled with meandering bright layers of her signature epoxy polymer. A modern and tailored armless sectional will provide seating around a custom designed coffee table featuring a series of four different borderless video loops projecting down onto the tabletop. Creepy crawlers on high speed, swarm of moths to a light, shattering effects, and a voyeuristic street view from above all provide a dash of discord to the organizational elements in the space. The room will be anchored by a bold rug and feature a piece of artwork overhead hanging from the beams of the lounge structure. The adept mix of chaos with structure mimics Lizette's residential design expertise of playing up textures, materials, colors, patterns and light to create bespoke living environments that reflect the dynamic personality of the clients for which each space is masterfully designed.
Young and passionate, designer Lizette Bruckstein burst into the San Francisco interior design scene less than ten years ago. Forgoing the traditional route of apprenticing in a prestigious design firm, Lizette founded her high-end residential design firm, Lizette Marie Interior Design, right out of design school. In the years since, Lizette has evolved into a well-respected designer with loyal list of clients that span San Francisco to the peninsula. Lizette's philosophy is simple, to create custom spaces for her clients that are a reflection of the client's best self. From provocative to playful, colorful to serenely neutral, Lizette's designs are expertly crafted as she plays up the use of scale, texture & pattern. A big proponent of custom design, incorporating it into floor coverings and case goods, Lizette strives to give each space she creates its own signature focal point. Her use of color and geometrics in large-scale projects has also garnered attention from local and national shelter magazines, as she was most recently featured as one of the San Francisco Chronicle's Stylemakers in their weekly spotlight article.
When not designing homes locally, Lizette has turned her eye to the international market, most recently completing a series of high-end turnkey units in Jakarta similar to San Francisco's One Rincon. Her other recent project of note is a full-scale renovation in Pacific Heights that is slated for national publication later this year.
Lizette's portfolio can be viewed online at http://www.lminteriordesign.com.