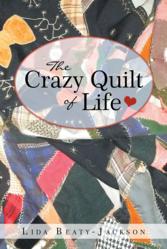 Vancouver, WA (PRWEB) April 08, 2013
In 1900, there were no video games, no computers, no newfangled toys. Books were even difficult to come by. How was a little girl to grow up?
Eliza Ann Beaty, a spirited girl known as Lida, spent her youth on the prairie, helping her family run the farm outside their sod house. It was in this strenuous environment that Lida cultivated a strong character that would carry her through both world wars and an eventful life.
It is a life she chronicles in The Crazy Quilt of Life, her own personal diary, which is now being published years after her death by her granddaughter. In Lida's own words, The Crazy Quilt of Life offers readers an intimate glimpse into what life was like before modern comforts.
One of Lida and her family's chief delights in life was the construction of the titular quilt, which symbolizes the cohesiveness of family, fortitude, and faith in the early days of America's beginning. It is from humble origins (for example, Lida's favorite memories from her childhood were the days she spent collecting buffalo "chips" for fuel) that this strong character rose to become a leader in her family, her community, and her Christian brethren.
Parker chose to publish the diary because she knew that through it the world would come to know and love the woman she has spent her life admiring.
"My grandmother's life was not an easy one," Parker says, "and yet she enjoyed the journey along the way—with a strong faith and guidance from God."
The Crazy Quilt of Life
By: Lida Beaty-Jackson
ISBN: 978-1-4624-0456-8 Paperback: $11.99
Available at http://www.amazon.com
About the author
The author was born Eliza Ann Beaty in 1881 and grew up in a three-room sod house on the prairies of Kansas. Later in her adult life, she was married to the governor of Indiana, Edward Jackson. Lida was a teacher and an author of Christian literature. With her mother, and sister Minnie Elizabeth, she made the titular quilt which remains today in the care of her granddaughter, Margaret Ann Parker, and can be seen on the front cover of The Crazy Quilt of Life.
###