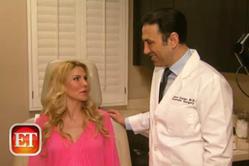 Los Angeles, CA (PRWEB) April 05, 2013
According to a March 11, 2013 CBS News article, researchers from Harvard Medical School have confirmed that the compound resveratrol, which is found in red wine, provides cosmetic and anti-aging benefits. Researchers have identified the gene that enables resveratrol to generate the serum SIRT1 that acts as a blockage to diseases and they believe that some drugs that are currently in clinical trials might have the capacity to also provide similar anti-aging benefits. (Go to: goo.gl/9VsRC).
"This research is very exciting," says Dr. Simon Ourian, Medical Director of Epione Beverly Hills. "I'm not ready to add resveratrol to our Signature Series skin care line just yet, but the report is very promising."
Resveratrol is an antioxidant found in a number of plant products including grapes and cocoa and is naturally occurring. It is classified as a phytoalexin, which is an antimicrobial compound produced by plants as a means of safeguarding them from harsh conditions such as climate change, infection and exposure to ultraviolet light.
Resveratrol has been associated with safeguarding individuals against diabetes and obesity, a lower incidence of blood clotting, and lowering of "bad" LDL cholesterol. This is possible because of the capacity of the compound to block the stickiness of platelets, increase nitric oxide, and dilate blood vessels.
According to the article, controversy arose relating to whether the production of SIRT1 was in fact influenced by resveratrol. Previous studies have made use of a man-made chemical group that glowed brighter as SIRT1 activity increased. The experiments did not work without this chemical.
To prove the link between SIRT1 and resveratrol, scientists observed that the man-made chemical was close to three amino acids which naturally occur in cells. Rather than utilizing the florescent chemical, scientists used a residue of tryptophan in a test tube to find whether more SIRT1 would be created, which it did. This confirmed that resveratrol was successfully able to activate the SIRT1 gene.
"The report is somewhat technical for the layman," says Dr. Ourian, "focused more on the lab work than anything else. Bottom line for consumers is that there are promising new, anti-aging ingredients in the pipeline."
Dr. Ourian has been a pioneer in laser technology and non-invasive aesthetic procedures including Restylane, Juvéderm, Radiesse and Sculptra. These treatments are used for the correction or reversal of a variety of conditions such as acne, acne scars, skin discoloration, wrinkles, stretch marks, varicose veins, cellulite, and others. More information about anti-aging benefits from red wine can be found on Epione's website.