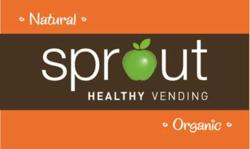 Irvine, CA (PRWEB) April 07, 2013
Sprout Healthy Vending recently teamed up with IZZE to provide the all-natural carbonated fruity drink to vending customers. Using only fruit juice and sparkling water with no refined sugars, preservatives, or artificial flavors, IZZE is a great fit for a Sprout machine.
School districts nationwide are starting to make healthy changes and improve the quality of foods and drinks they offer to their students. With many school districts banning sodas and other sugary beverages sold in vending machines, they're looking for alternatives that kids will still be able to enjoy. Together, IZZE and Sprout are determined to provide nutritional products to the youth to instill healthy habits for their futures.
"IZZE Sparkling Juice is a perfect item for the Sprout machine because it contains only two ingredients: 100 percent juice and water. There are no added chemicals or sugars in this drink, and it's a great alternative to a carbonated soda," explains Sprout Product Nutrition Specialist, Megan Cook.
IZZE drinks fall within The Alliance for a Healthier Generation's 35-10-35 rule for products sold in schools, and was approved by the USDA in 2008 to be sold in elementary, middle and high schools. The gluten-free drink is 70 percent pure fruit juice, and flavors like Blackberry, Lemon, Grapefruit and Pear are popular among people of all ages. There are only 87-107 calories (depending on the flavor) in an eight-ounce bottle of IZZE.
"Students will like it because it tastes fantastic. The Sparkling Apple flavor is always a favorite among students because of its tartness," Cook continues.
Sprout Healthy Vending is considered to be a "Social Wellness" business that benefits communities by providing the largest selection of name brand, natural and organic products-including healthy drinks, snacks, yogurts and smoothies. Menu plans are developed by licensed dieticians to ensure the products in the machines meet even the strictest National, State, and Local nutritional guidelines. Sprout Healthy Vending is a beneficial business opportunity for the health conscious entrepreneur.
"Sprout Healthy likes to offer choices for everyone," Megan Cook adds. "IZZE Sparkling Juices are great for people of all ages who crave a carbonated beverage, but may want to add a little nutrition to their diet any chance they get. IZZE contains 100% fruit juice and is packed with vitamins that keep the immune system strong."
To learn more about Sprout Healthy Vending's company, locations and products please visit http://www.sprouthealthyvending.com or call (800) 450-7648.