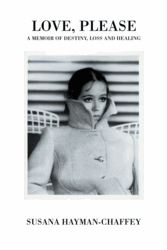 Los Angeles, CA (PRWEB) April 08, 2013
She's headlined as a soloist in the Merce Cunningham Dance Company, made a difference in hundreds of students' lives, traveled the world, and worked with world- class artists such as John Cage and Jasper Johns.
But even the most extraordinary lives share relatable personal challenges. The most important life lessons Susana Hayman-Chaffey learned resulted from the voyage of love she shared with her soul mate and their families, friends and strangers she met along the way.
Hayman-Chaffey's new book, Love, Please: A Memoir of Destiny, Loss and Healing is the story of a strong, independent woman who fell into a whirlwind courtship on the other side of the world with Japanese architect and sculptor Satoru Oishi. Together the soul mates wrote their own unique but timeless love story, one full of laughter, tears and transformation.
Hayman-Chaffey also writes with humor and grace about her travels and insights into varied cultures around the world, especially those of Italy and Japan. A woman with a strong upbringing, she lived life on her own terms, conquering both the challenging world of dance as well as the personal, financial, and health problems she and Satoru encountered along the way.
With this in mind, she wrote Love, Please to inspire young and old alike to see how they can create positive solutions to their own life experiences.
"It encourages and inspires us to keep faith in the midst of what seems to be an impossible life journey, proving that, with courage and determination, anything can be accomplished," Hayman- Chaffey says. "It is a story told simply and honestly about life and love."
Love, Please: A Memoir of Destiny, Loss and Healing
By Susana Hayman-Chaffey ISBN: 978-48170-338-3
Retail price: $28.99 hard cover
About the author
Susana Hayman-Chaffey was born in England, and has since traveled all over the world as a former soloist and teacher at the Merce Cunningham Dance Company. She devised and currently teaches Inner-being-retreats, a combination of Qigong, breathing and meditation techniques, in Los Angeles and Italy. She has written six prose poetry books, and Love, Please is her first book.
###