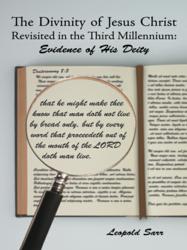 Washington, DC (PRWEB) April 08, 2013
Many religions, including Hinduism, Mormonism, Islam, Jehovah Witnesses and Scientology, believe that Jesus is not God. To some he is simply a human being; to others he is guru or prophet of God. In his book The Divinity of Jesus Christ Revisited in the Third Millennium: Evidence of His Deity, Leopold Sarr sheds new light on this debate concerning the nature of Christ and his divinity.
In early centuries of Christianity, controversies emerged about the humanity of Jesus Christ. Today the debate is re-centered around his alleged deity. Through a comprehensive examination of both Scripture and non-Christian sources, this book explores these questions about Christ's deity from the historical context of his life, ministry, death and resurrection.
"This book is an invitation for a friendly conversation about God, Jesus Christ," Sarr said. "It is a call for an evidence based dialogue among various religions."
During his travels around the world, Sarr often heard people making claims that all religions are the same, that "what matters is love for one another and doing good" and that Jesus Christ was simply a human being, not God. After spending the past six years studying the Bible, Sarr discovered a completely opposite truth.
"Too many wrong things have been said about Christianity and the Bible," Sarr said. "As a diligent student of the Bible, I could not understand why it was not dealt with in a compelling way in our 21st century world."
The Divinity of Jesus Christ Revisited in the Third Millennium aims to address the fundamental questions surrounding Christ's deity, including: Is Jesus Christ truly God? Is there evidence of his deity in the Old Testament? Does the New Testament affirm that Jesus is God? Are there reliable non-Christian sources that back such claims of his deity?
In addressing these questions, Sarr presents writings and quotes from contemporaries and eyewitnesses who have effectively acknowledged the deity of Jesus. He also quotes verses from the Bible to provide evidence of the preexistence of Jesus Christ and his divine attributes.
"This book provides compelling evidence about the divine nature of Jesus," Sarr said. "Faith is not just a leap in the dark, it is based on hard core evidence. And I provide that evidence in my book."
For more information, visit http://www.evidenceofthedeityofchrist.com.
The Divinity of Jesus Christ Revisited in the Third Millennium: Evidence of His Deity
By Leopold Sarr
ISBN: 978-1-4772-9488-8 Paperback: $26.95
Hardcover: $35.95
Available at http://www.amazon.com.
About the author
Leopold Sarr is a senior economist at the World Bank Group and has worked in the international development field for fifteen years. He received his Ph.D. in economics from Cornell University and two master's degrees from the University of Clermont-Ferrand in France. Leopold is a member of McLean Bible Church, where he serves in the Creative Arts Ministry. He currently oversees a weekly Bible study focused on prophetic books in the Bible and is working on his second book about the actuality of prophecies in Scripture. Sarr currently resides in Washington.
###