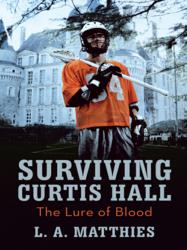 New York, N.Y. (PRWEB) April 08, 2013
As a mother of three, author L.A. Matthies knows about the demanding schedules and challenges that teenagers face. Her children, ages 10-16, balance their time between school, sports, friends and family.
Matthies' new book, Surviving Curtis Hall: The Lure of Blood, explores these challenges, while at the same time draws the reader in through adventure, dark secrets and fantasy elements. It is through the book's characters, and their struggle to sort out love/hate/friendship triangles, that Matthies explores the many relevant issues teenagers come across during high school.
"This book emphasizes the very real challenges that face teens today such as striving for academic excellence and excelling in sports, arts and music, all while juggling new love and maintaining lifelong friendships," Matthies said. "This is heightened when the main characters transfer to a new school environment that is filled with a fascinating array of subterranean tunnels, glyphic codes and a labyrinth."
When Tristen McCoy and his friends transfer to Curtis Hall boarding school on a sports scholarship, they find themselves surrounded by peers who are just as – if not more – talented. As they adjust to their new environment, they discover strange things about the school including a maze of tunnels beneath the campus and a mandatory blood drive. Tristen is soon drawn to Marcella Venier, a vampire who struggles to further her covert research mission while remaining in Tristen's world.
"As my story unfolds, the many characters find themselves facing difficult decisions and choices," Matthies said. "They are forced to evaluate their motivations, friendships and priorities. In doing so they come to realize just how crucial those friendships can be in helping to make life changing decisions."
Through her characters, which include a talented art student, an athletic jock and a guitar-playing musician, Matthies emphasizes the high expectations society places on high school students. Her goal is to create awareness around these issues and encourage parents to connect with their children.
"This is a time of extremely high expectations for our kids," Matthies said. "It is a lot of pressure, including self-imposed, because of tremendous competition. That is precisely why they need our support and encouragement now more than in the past."
For more information, visit: http://www.SurvivingCurtisHall.com.
Surviving Curtis Hall: The Lure of Blood
By L.A. Matthies
Hardcover, $26.95
Paperback, $16.95
Kindle, $2.99
ISBN: 978-1-47595-266-7 Available at http://www.amazon.com.

About the author
L.A. Matthies worked in a career in hairdressing and cosmetology. She and her husband have three children and live in New York. Matthies divides her time between her new book and supporting her three children in achieving their academic, athletic and personal goals. Surviving Curtis Hall is her debut book.
###