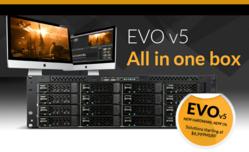 With EVO v5, we've developed a solution that directly meets these high demands of today's digital content creators.
(PRWEB) April 08, 2013
Las Vegas, NV, NAB Conference, Booth SL7410 (April 8, 2013)--Studio Network Solutions, LLC. (SNS) a leading provider of storage solutions for video and audio workgroups, today announced a major hardware and OS upgrade to its EVO shared storage server with EVO v5.
EVO is SNS's complete shared storage server with SAN and NAS features. The "All in one box" system combines a high-performance storage array – capable of nearly 2.5GB/s throughput and 4k support – with extensive connectivity options including 10 Gb/s Ethernet and 8 Gb/s Fibre Channel. EVO can be a SAN, a NAS, or both at the same time, and is developed and tuned for the demanding workflow needs of TV, film, video, graphics, VFX, animation, audio, and broadcast production environments.
EVO v5 is a huge leap forward in the shared storage landscape, offering the flexibility of built-in SAN and NAS, plus enhanced features like volume and pool expansion, SSD, 10 GbE, 128TB per node, project/bin sharing for OS X and Windows, RAID 6, and remote monitoring and setup.
Digital content producers all over the world are choosing the EVO shared storage system. They've discovered that it offers the perfect blend of price, performance, connectivity and expandability for their organization, and with EVO v5 the system is now even more accessible with the introduction of an 8 bay configuration.
"We're getting feedback every day from media facilities, and most are finding themselves growing at an exhilarating, yet unpredictable pace," commented Ryan Stoutenborough, President, SNS. "They're constantly adding new people and new projects, and needing more storage. They require a solution that's up-and-running quickly, expandable when necessary, and cost-efficient--under $10k. With EVO v5, we've developed a solution that directly meets these high demands of today's digital content creators."
The new EVO v5 8 bay unit starts under $7k, and like the larger 16 bay it has no per-seat software licensing fees, which helps to keep costs lower when growing the system.
EVO is designed for online, real-time use with professional applications such as Final Cut Pro/FCP X, Avid, Adobe Premiere Pro, Smoke, Scratch, and Pro Tools. The 16 bay and 8 bay systems can be expanded to accommodate multiple direct-connect workstations over Ethernet and Fibre Channel, with or without a network switch.
New in EVO Version 5 – Hardware and Software features include:

NOW in 8 Bay or 16 Bay configurations
Dynamic volume/pool expansion
NOW shipping with 1TB, 2TB, 3TB, and 4TB drives
NOW shipping 6Gbps SATA and SSD disk options
Up to 128TB per node
Nearly 2.5GB/s throughput
NOW supporting RAID 0, 1, 4, 5, 6, and 10
NAS and network administration/performance improvements
Remote monitoring upgrades, and hundreds of UI improvements
EVO v5 is available and shipping now. For pricing and information contact SNS at +1.314.733.0551 or sales(at)studionetworksolutions(dot)com.
###
About Studio Network Solutions (SNS)
SNS is a leading provider of shared storage hardware and software technology for Mac, Windows & Linux workgroups. For over 15 years SNS has been advancing workflow efficiency for the media and entertainment, broadcast, post production, digital content creation, game development, and education and government marketplaces. For more information visit, http://www.studionetworksolutions.com