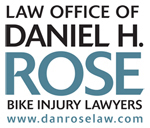 San Francisco, California (PRWEB) April 07, 2013
As part of National Bike Month, the Law Office of Daniel H. Rose is proud to sponsor Marin County Bike To Work Day, May 9, 2013. The annual event, put on by the Marin County Bicycle Coalition (MCBC), is celebrated by thousands that choose to leave their cars at home and experience the joys and benefits of bicycling to work, school, and for local errands.
The MCBC has been steadily improving Marin County roads and multiuse pathway facilities for cyclists and pedestrians since they formed in 1998. The impact of their efforts is evident throughout the county, including bike parking facilities, miles of new bike lanes, a nearly completed bike routes system that is signed, several separated multiuse pathways road repairs and resurfacing, share the road "sharrow'' road stencils, and much more. Their recent Off-Road Program's efforts include the beautiful new 680 Trail linking two County open space preserves, improved trail access on State Parks and GGNRA lands, and volunteer trail work days.
The Law Office of Daniel H. Rose specializes in the representation of injured bicyclists throughout the San Francisco Bay Area, with more than 28 years experience. Daniel Rose is one of the leading bicycle lawyers in the San Francisco Bay Area, serving the counties of Marin, San Francisco, Alameda, Santa Clara, San Mateo, Contra Costa, Sonoma and Napa. Mr. Rose has a reputation for ethically, efficiently and compassionately pursuing the maximum compensation allowed by law.
LAW OFFICE OF DANIEL H. ROSE
One Sansome Street, Suite 3500
San Francisco, California 94104
Tel: (415) 946-8900 Fax: (415) 221-0892
danrose(at)danroselaw(dot)com
http://www.danroselaw.com