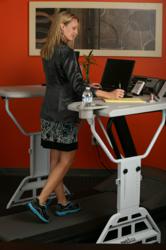 Scottsdale, AZ (PRWEB) April 08, 2013
New research has found that walking is equivalent to running in reducing the risk of high blood pressure, high cholesterol and diabetes but there is a catch. The researchers found that walkers need to make up for a lack of exercise intensity with an overall increased time of exercise. TrekDesk Treadmill Desk offers an opportunity to gain the health benefits of running without leaving the office by allowing employees to walk through out the day.
The study conducted by Lawrence Berkeley National Laboratory in California found that walking briskly can lower the risk of high blood pressure, high cholesterol and diabetes – all potential precursors to the nation's number one killer: heart disease, as effectively as running.
The study involved 48,000 participants broken down to 33,060 runners and 15,045 walkers over a period of six years. The researchers assessed the difference in health outcomes via distance travelled. The study findings were published in the journal Arteriosclerosis, Thrombosis and Vascular Biology (http://atvb.ahajournals.org/content/early/2013/04/04/ATVBAHA.112.300878).
Dr. Williams and his team found that as long as the energy use (calorie consumption) was similar the health benefits were basically equivalent. 'Walking and running provide an ideal test of the health benefits... because they involve the same muscle groups and the same activities performed at different intensities,' stated Dr. Williams. The more the runners ran and the walkers walked, the better off they were in health benefits. If the amount of energy expended was the same between the two groups, then the health benefits were comparable.Walking may be a more sustainable activity for some people when compared to running, however, those who choose running end up exercising twice as much as those that choose walking. This is probably because they can do twice as much in an hour."
While it is true a runner can expend more energy in an hourly workout than a walker, a TrekDesk Treadmill Desk user has the advantage of walking throughout the day expending more total energy than a three to four hour run depending upon the walking speed and incline of the treadmill.
"This study should also be viewed in context with other studies that have shown that even the health benefits of a daily run can be negated at the office if an employee is confined to a chair for just a few hours a day," stated Steve Bordley, CEO of TrekDesk Treadmill Desk. "The study is important because it gives hope to millions of workers that lack the time or ability to run during the day knowing they can gain health benefits by staying in motion as much as possible."
Designed to fit any existing treadmill, TrekDesk treadmill desk is an affordable, full sized, height adjustable workstation that allows individuals the opportunity to gain the necessary amount of daily exercise to lose weight, maintain health, reduce stress, prevent disease, strengthen muscles, boost mood and productivity, without requiring additional time during the day or extra motivation.
Join the TrekDesk "Movement Revolution" to learn more, spread the gospel regarding movement, or win a free TrekDesk http://www.facebook.com/trekdesk, or follow TrekDesk on twitter http://www.twitter.com/trekdesk. TrekDesk treadmill desk is currently available for sale online at http://www.trekdesk.com.