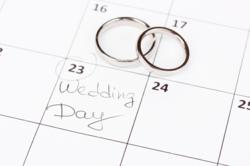 Newport Beach, CA (PRWEB) April 08, 2013
The modern day bride lives in an age heavily influenced by social media and should learn to embrace the times by using it to her advantage. According to Wedding.com, social media can help ease the wedding planning process if utilized effectively.
Many brides are already integrating social media facets into their wedding plans, whether it is with a wedding website, an online inspiration board, or a conversational hashtag. There are several innovative ways to utilize social media that could actually alleviate some of the stresses of wedding planning. Pinterest boards can be used to help bridesmaids select and purchase their dresses and accessories, hashtags can organize both text and pictures, and some sites even funnel all social media posts on one easy website for the less tech-savvy (http://www.huffingtonpost.com/marcella-white-campbell/wedding-social-media-dos-_b_3002659.html). Brides can maintain control of the content by immediately creating social media ground rules for her guests, taking care to be clear and concise about what content is okay to post and what is off-limits. She should also bear in mind that reminders may be needed every once in a while.
"Social media is a part of everyday life now, and brides who are able to embrace it will be able to use it to their advantage," says Brett Reynolds, CEO of Wedding.com. "We realize privacy is one of the biggest concerns, and as such, brides should set the ground rules right away."
For more information about Wedding.com, please visit http://www.wedding.com.
About Wedding.com
Wedding.com is an innovative new website that connects engaged couples planning their wedding with wedding vendors looking to grow their business. Wedding.com contacts vendors for couples, giving them the power to compare and negotiate while ultimately saving time and money. With 12,000 couples and 22,000 vendors currently using the website, 105,000 proposals have already been sent since their inception. Vendors range in services from wedding planners, photographers, florists, and DJs to custom invitations, party favors, and much more. For additional information about the company and its services, please visit http://www.wedding.com.